Elevation: 9,950 ft
Prominence: 370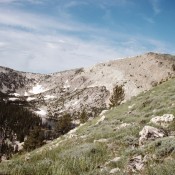 Climbing and access information for this peak is on Page 349 of the book. Livingston Douglas has provided a description of a new route on this peak. Updated November 2018
---
Most peakbaggers climb this peak and Cache Peak on the same day. The traverse between the two summits is tedious but not difficult. USGS Cache Peak
2018 Update by Livingston Douglas 
Date of Climb:  September 21, 2018
North
west Face, 
Class
3
Access
Same as for the Southeast Face of Peak 8740/Independence Hill.
Route
This route is part of a ridge traverse from Peak 8740/Independence Hill to the summit of Mount Independence. It begins at the 8,220-foot connecting saddle between the two peaks. From the summit of Peak 8740, you get an excellent look at the Northwest Face of Mount Independence. It is a very unsettling sight. The face is quite steep higher up and has significant boulder fields with sections of forest mixed in. It is rather intimidating. I almost turned around here and said "No Go." Almost. But, just for kicks, I decided to see how far I could get up this face. Ironically, it turns out that the boulder scrambling was the best part of the climb! The upper section is not as steep as it appears.
From the middle of the [lengthy] 8,220-foot saddle at the base of the Northwest Face, follow a good cattle trail SE up into the forest. You will soon stumble upon a hunter's campsite. The cattle trail begins to angle upward diagonally L/E. Worse yet, it starts to bend farther L/NE and flattens out. Leave the cattle trail here and bushwhack SE straight up the face. The forest here is mostly pines and is not overly steep. Eventually, the slope steepens and boulders appear. Initially, you can avoid the boulders in the forest, but that doesn't last.
The terrain soon becomes a horrid mix of forest, blowdown, and boulders. Progress is slow and rather dangerous in this stuff. Make your way onto an open boulder field (of which there are several on this face). The boulders are quite large and somewhat intimidating, but they are surprisingly stable and go well. Just being out of the forest and blowdown is a great relief. And now you have good visuals of what lies above you and you can establish a line of ascent. It's all good. These large, white granite boulders are SOLID ROCK (nothing crumbly here) and quickly become a manageable mix of medium- and large-sized boulders rather than all LARGE boulders as I first encountered.
Stay in the open boulder field sections and skirt some areas of a boulders/blowdown mix. Any steep sections don't last for long. Most areas were of moderate steepness and still require the use of your hands. Just keep heading SE up the slope. You will make very good time in this open boulder field area and will cover several hundred feet of vertical gain. Stop to enjoy the view down to Peak 8740 and the surrounding area—it is splendid. Unfortunately, as they say, "all good things must end."
Higher up, the open boulder fields end and you must navigate your way up through a mix of boulders, trees (mostly firs), and scrub. As you approach the flattish summit area, you will emerge onto the L/N side of the trees in open, easy, short scrub with embedded talus as the base. From here, the summit is a quick stroll to the SE. The summit of Mount Independence has a small cairn and some summit papers in a glass jar. The nosebleed-inducing view down the East Face is stunning. Finally, you can see the collection of 4 lakes called "Independence Lakes."
Northeast Ridge
/North Face, 
Class 2+ —DESCENT:
Access
Same as for the Northwest Ridge Route. This route is part of a ridge traverse from Peak 8740 and a descent back to Elba Pass. If you are only climbing Mount Independence, the more direct access to the Northeast Ridge/North Face is via Independence Lakes Road, as discussed on Page 349 of the book.
Route
From the summit, descend the Northeast Ridge on easy open terrain that is a mix of embedded rock, broken rock, and short scrub. But this enjoyable terrain (with a stunning view down the SE face to Independence Lakes) doesn't last for very long. You soon enter the forest and you must contend with a mix of boulders, firs, and blowdown. After about a mile, the ridge bends north and becomes a face descent. The forest here is mature pines with boulders mixed in. It even includes some sections of open boulders hidden amidst the trees. You must use your hands to descend some of the steeper sections in the 8,200-foot to 8,600-foot area.
Bash your way northward down through the unending forest to stumble upon the [blessed] ATV trail that is the Independence Lakes Trail/FST-035 at just over 7,750 feet in elevation. Go L/W onto this rocky trail and follow it for about ¾ mile to reach an old, disused campground (Independence Lakes CG) and the trailhead for the Independence Lakes Trail/FST-035. From the large parking lot at the disused campground, follow Independence Lakes Road (FSR-728) all the way back to Elba Pass where you are parked.
Mountain Range: Albion Range
First Ascent Information:
Other First Ascent:

Northwest Face

Year:

2018

Season:

Summer

Party:

Livingston Douglas
Longitude: -113.675010 Latitude: 42.197413
Share this post ...