Elevation: 9,449 ft
Prominence: 509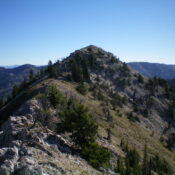 Climbing and access information for this peak is on Pages 339-340 of the book. As occasionally happens the Board of Geographic Names accidentally placed the name Needle Peak on the peak's lower north summit. The book entry used the name for the high point which is the only formation structure that sort of remotely resembles a "needle."  At Livingston's recommendation, I have changed the peak's designation to Needle Peak HP. Hopefully, this will reduce any confusion caused by the name placement on the USGS quadrangle. Updated January 2023
---
Needle Peak HP
is the high point of the Needle Peak massif. Maps assign the name "Needle Peak" to the [lower] north summit (9,220 feet). Needle Peak HP is not easy to reach. It requires a difficult bushwhack from any direction. Needle Peak HP is located east of Big Elk Creek and north of Blowout Canyon. The shortest bushwhack is from the Blowout Canyon Trail/FST-123 to its south.
As a side note, Blowout Canyon was named such because it is the site of a massive landslide. USGS Mount Baird
Access
From US-26 near Palisades Reservoir, drive east up [signed] Big Elk Creek Road/FSR-262 for 1.9 miles to its end at a large trailhead parking area. Park here (5,680 feet).
West Ridge, Class 3
The Climb
From the trailhead parking area, walk east up the spur road to the YMCA camp and follow a 2-track road that heads left/north past the main buildings then turns right/east to follow a gully. The 2-track quickly becomes grassy and overgrown. Stay on the 2-track until it bends left/north and crosses a stream on a nice bridge. After the bridge crossing, look for the least brushy spot to bushwhack left/north through a short patch of forest then up steep scrub to reach the west ridge.
Once on the west ridge, the terrain is immediately brutal. Chest-high, thick brush in a pine forest in steep-ish terrain. Absolutely miserable. The veg isn't always this wicked. Bushwhack up the forested ridge with endless ridge pines, thick/relentless brush, downed trees, and hidden ridge boulders/outcrops. Higher up, the ridge becomes more open and has reasonable brush but the ridge pines and deadfall are still difficult. Some sections of rocky ridge outcrops are also time-consuming.
The ridge bends right/southeast at about 8,800 feet in semi-open terrain. It makes a final bend left/east from a false summit to reach the true summit. The summit of Needle Peak HP had a small cairn so I built it up. The open summit offers magnificent views of Palisades Reservoir and surrounding peaks. The ridge wiggles a bit in its lower section and has minimal visibility due to the forest, so be very careful to not get pulled left/south into a side drainage on the descent. There are minimal (if any) game trails on this awful ridge. Even the animals avoid this insanely difficult terrain. The west ridge is almost four miles in length. It is a grueling, punishing endeavor and I do NOT recommend it. Find another route with less bushwhacking mileage.
Mountain Range: Big Hole and Snake River Mountains
Longitude: -111.05911 Latitude: 43.31539
Share this post ...