Elevation: 5,912 ft
Prominence: 342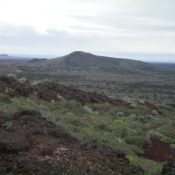 North Laidlaw Butte is located about three miles southwest of the south end of the established Craters of the Moon National Monument. It is also about two miles northeast of Snowdrift Crater and about seven miles northeast of Laidlaw Park. Depending upon road conditions from Laidlaw Park, you may need an ATV or MC to reach Snowdrift Crater or Little Laidlaw Park. The hike from the trailhead at Craters of the Moon (4.8 miles one way) combined with the cross-country route to the summit (3 miles one way) demands a LONG mileage day of almost 16 miles round trip. USGS North Laidlaw Butte
Approach from the North (Craters of the Moon National Monument)
From Craters of the Moon National Monument along US-20, hike east then south on the Wilderness Trail all the way to the end of the trail at 5,700 feet just before reaching The Sentinel.This trail hike covers about 4.8 miles one way.
Northeast Side/North Ridge (Class 2-3)
From just north of The Sentinel, hike southwest across sagebrush and lava flows to reach the east side of the summit massif. Climb west up onto the north ridge and follow it south to the summit. Based on my visuals from the summit of The Sentinel, the terrain looks relatively easy without many sections of lava flows or rocky outcrops. But it requires three miles (each way) of cross-country travel and the USGS topo map shows numerous lava outcrops along the way, so be advised.
Approach from the South
From US-20 east of Carey, turn right/south onto [signed] North Laidlaw Road. This junction is 0.2 miles west of Fish Creek Road, which is well-signed. Drive south on North Laidlaw Road for 1.2 miles to an unsigned "T" junction. This is Laidlaw Park Road. It can also be approached directly from farther west on US-20 and the road quality should be fine. Turn left/southeast onto Laidlaw Park Road and drive 13.5 miles to reach a signed 4-way junction (5,078 feet on the USGS map). Go left/north here and drive on 2-track BLM desert roads northeast for about 8 miles to Snowdrift Crater. Another option is to drive east fromthe aforementioned 4-way road junction to a 2-track road that heads north into Little Laidlaw Park.
Southwest Side from Snowdrift Crater, Class 2-3
From Snowdrift Crater, hike northeast across lava flows, cracks, and lava outcrops to reach the southwest face of North Laidlaw Butte. Climb up the lava rock to the summit. Please refer to Rick Baugher's trip report for more details on this route. You may decide to use a different line than Baugher to complete the cross-country trek to the summit. The distance from Snowdrift Crater to North Laidlaw Butte is about two miles.
South Side from Little Laidlaw Park, Class 2-3
From Little Laidlaw Park, hike north across lava flows, cracks, and rocky outcrops to reach the south face. Scramble north up the lava rock to the summit. The distance from Little Laidlaw Park to North Laidlaw Butte is about two miles.
Mountain Range: Snake River Plain
Longitude: -113.52949 Latitude: 43.35101
Share this post ...