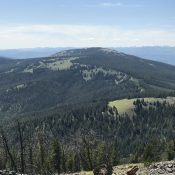 This area is bounded by the main Salmon River in the east and north, Panther Creek in the west, and the road over Morgan Creek Summit in the south. The Salmon River Ridge is the dominant feature in this region which is characterized by high, rolling ridges, thick forests and massive viewpoints.
The Salmon River Ridge Road/FS-020 traverses the ridge for 42 miles between Iron Lake Campground in the south and Napoleon Hill in the north. This road and many others provide access to the peaks in this section of the Salmon River Mountains [(H) on Pages 142-143]. Other than Williams Creek Road, the roads in this area are rough. High-clearance vehicles with good all-terrain tires at a minimum are recommended for anyone venturing here. Use this link for a list of all Northeast Corner peaks included on this website: Northeast Corner Peaks
Mountain Range: Eastern Salmon River Mountains
Share this post ...