Elevation: 10,336 ft
Prominence: 1,236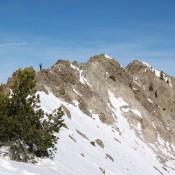 Climbing and access information for this peak is on Page 211 of the book. Livingston Douglas provides a much-needed update of the access and route information found in the book. Updated November 2022
---
Norton Peak is located just east of the main Smoky Mountains crest. It is the range's second-highest ranked summit. It is just five feet shorter than the highest summit, Saviers Peak. USGS Galena
Access/Updates
The Norton Lakes trailhead is located 1.3 miles up FSR-170 from Baker Creek Road/FSR-162. The trailhead is at 7,645 feet. This is a very popular trail and is heavily used. In recent years, the Forest Service has improved the trail and stepped up maintenance. The route is well-beaten all the way to Miner Lake. Since the book was published, a good climber's trail has developed and now leads from the Norton Lakes Trail all the way to the summit.
Southwest Spur/South Ridge, Class 1
The Climb
From the trailhead, hike 3.3 miles up the well-beaten Norton Lakes Trail/FST-135 to the Norton Lakes. Continue up the trail to a ridge crossing at 9,900 feet on the southwest spur of the south ridge of Norton Peak. The trail continues west from here down to Miner Lake. Leave the trail here and follow a very good climber's trail right/northeast in mostly open terrain to a junction with the narrow, rocky south ridge. The look from here is intimidating. Norton Peak seems like it's still a long ways off and the ridge is an ugly mess of rocky outcrops and towers. This won't be easy.
Oh, but thanks to a climber's trail, it will be easy. And pretty fast. Follow the climber's trail on or along the left/west side of the choppy, rocky south ridge all the way to the summit. The trail has a few minor ups and downs and has some loose scree/gravel in spots but, overall, it's quite good. The summit is a ridgeline summit. It has a small cairn, two USGS benchmarks, and some triangulation wreckage. There are a bunch of summit registers in a plastic toolbox nearby.
South Ridge/Southwest Spur Full, Class 2
The Descent
From the summit, follow the climber's trail back to its junction with FST-135 at the ridge crossing. From this point, continue southwest down the spur as it narrows and gets much more rugged than the upper section that leads up to Norton Peak. The southwest spur is a mix of ridge rock and ridge pines. It is tedious and clogged. Stay close to the crest since the side-hilling on steep, loose scree is onerous. There is no climber's trail here. The southwest spur ends at an elongated saddle at 9,580 feet that sits above the highest of the Norton Lakes. This concludes the first leg of today's 2-peak adventure. Prairie Creek Peak (10,138 feet) is up next.
Mountain Range: Smoky Mountains
Longitude: -114.653375 Latitude: 43.762049
Share this post ...