Elevation: 11,775 ft
Prominence: 955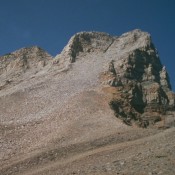 Climbing and access information for this peak is on Pages 250-251 of the book. Scroll down this page to view many photos and for new route information: (1) Steve Sheriff and Kevin Murray route on the North Ridge and (2) The Travis Michaelis Memorial Route.
---
Old Hyndman Peak is #9 on my list of Favorite Climbs: the East Ridge/East Face Route (Class 3). This route is a great combination of an enjoyable cross-country approach with strenuous scramble. USGS Grays Peak
---
The following route information was provided by (1) Steve Sheriff of Missoula, Montana and (2) Dean Lords of Idaho Falls (with photo below).
---
(1) Steve Sheriff and Kevin Murray Route on the North Ridge
Old Hyndman Peak, North Ridge, II 5.7, 10/6/2001. Kevin Murray easily
convinced me to climb the North Ridge of Old Hyndman Peak. We started from the
campground at Wildhorse Creek. We approached and, with some Class 3 and 6 or
7 pitches of broken rock, reached the summit via the North Ridge. The last
pitch, just below the summit, had a few Class 5.7 moves, the others were lower Class 5. In terms of line and directness, this was a high character route. It suffers from low quality (but tolerable/manageable) rock.
We elected to descend the South Ridge into Hyndman basin north of Cobb Peak. We woke up a couple of mountain goats, crossed the saddle between Old Hyndman Peak and Hyndman Peak, got back to the North Ridge, and still ended up with two raps on that ridge. 12 hours round trip. This makes a good tour of the mountain.
---
(2)  The Travis Michaelis Memorial Route by Dean Lords
Hyndman Peak: Northeast Face
WI 4, M5, (1800 feet)
May 14th, 2004
Abe Dickerson and I completed a new ephemeral ice route on the Northeast Face of Hyndman Peak. This route starts on the obvious thin ice smear flowing from a snow bowl in the middle of the Northeast Face. One 60M pitch of very thin WI 4 leads to a rock belay at the base of the snow bowl. Two pitches of 50° to 60° snow and rolling WI 3 slabs lead to another hanging snow slope. The fourth pitch climbed this hanging snow bowl and finished in a narrow ice runnel below a headwall of ice and rock. The next section was the crux and was passed in two 30M pitches of technical mixed climbing on thin vertical ice and some exciting sections of dry tooling and mixed climbing up to M5 in difficulty. The seventh pitch started with a WI 3 corner which lead to a steep snow ramp. The eighth pitched crossed the Northeast Ridge. A narrow 60° couloir was climbed to the summit after appoximately 400 feet. The entire route is threatened by massive cornices hanging from the East Ridge.
---
---
Photo Essay of the Northeast Face Route
Mountain Range: Pioneer Mountains
Longitude: -114.117141 Latitude: 43.74071
Share this post ...