Elevation: 10,500 ft
Prominence: 320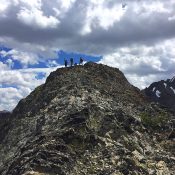 This peak is not in the book.
---
Senate Peak is located northwest of Galena Peak on the main Boulder Mountains Crest, which is located within the Sawtooth National Recreation Area of the Sawtooth National Forest. The peak can be climbed by either a long, arching ridge walk or by a steep, direct ascent up the drainage. Both routes begin at the end of the Senate Creek Road and gain over 3,000 feet in elevation. Access the Senate Creek Road from ID-75 just south of Galena Lodge. The road takes you 1.2 miles up the drainage before it ends. USGS Galena Peak
Senate Ridge, Class 2-3
At the end of the road, look to your left and you will spot a trail heading up Senate Creek. Follow this good, maintained trail up the drainage. After gaining 300 vertical feet, the trail crosses the creek and works its way up to the top of the Senate Creek ridge. Leave the trail at the top of the ridge and follow the ridge up to Point 10451 and the Boulder Mountains Crest. From this point, the route follows the crest past a false summit to the true summit.
The false summit can be easily bypassed on the Senate Creek Side or you can stay on the ridge and climb over the top. The climb up the last section has a couple of Class 3 moves. My stats: 4.8 miles with 3,360 feet of elevation gain staying on the ridge. Your elevation gain will be slightly less if you bypass the middle false summit. The rock on the ridge is broken but is better than most Boulder Mountains rock.
Senate Creek South Face Direct, Class 2/3
For this route, hike up the trail described above until it crosses Senate Creek. After crossing the creek, leave the trail and turn up the drainage keeping the creek to your right. The drainage is mostly sagebrush and grasses. Pick the route that best suits your temperament and climb up. The GPS track shown below crosses a band of broken, debris-covered cliffs. Rather than follow my line, it is probably best to keep right and avoid the cliffs. Either way, head toward the peak's West Ridge and then follow the ridge to the summit. My stats: 2.5 miles with 3,100 feet of elevation gain. Footing is good on the lower slopes but there is loose talus higher up.
Mountain Range: Boulder Mountains
Longitude: -114.61519 Latitude: 43.89701
Share this post ...