Elevation: 10,500 ft
Prominence: 600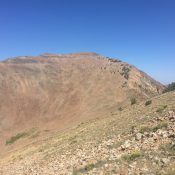 Climbing information for this peak is found on page 256 where it is listed as Peak 10480+. The newest elevation data places the summit at 10,500 feet. Additionally, at the current time access is not blocked by private property.
---
Peak 10500 is best climbed from Argosy Creek. It may be possible to climb the peak from the Left Fork Antelope Creek from the Fishpole Lakes ((D)(1)(a.1) found at pages 260-61 of Idaho A Climbing Guide). However, the side facing this drainage is much stepper than the slopes above Argosy Creek.
---
Access (Updated)
Reach Argosy Creek from ID-20 at Carey, Idaho. Look for the sign on the east end of town stating: Little Wood Reservoir 11.0 miles. See (E)(1) at page 261. Take this good paved road out of town passing homes, farms, and ranches. The road turns to good gravel before reaching the turn for the reservoir. Continue on the main road.
At 17.4 miles, the road takes a sharp right turn and runs through the middle of a ranch. Continue past the ranch buildings for 6.8 miles to an unsigned junction just past a turn for another ranch. This road, shown on the map below, is FS-126. Most maps show it as a 4WD road, but in fact it is a good road suitable for most vehicles when dry. Follow FS-126 as it skirts around the ranch property and works its way into upper Muldoon Creek for 2.5 miles. Here, the road is wide enough to park. This spot is just past the confluence of Muldoon Creek and Argosy Creek.
Muldoon Creek is clogged with willows. Finding your way across the creek and then through the willows may turn into the crux of your climb. The best spot we found was 0.1 miles south of our parking spot. Good luck.
---
Southeast Ridge (Class 2+)
Climb from the saddle joining the Hike up Argosy Creek to the saddle between Peak 10500 and Pion Peak and then ascend the peak's steep southeast ridge to the summit.
USGS Topo: Smiley Mountain
Mountain Range: Pioneer Mountains
Longitude: -113.85859 Latitude: 43.63369
Share this post ...