Elevation: 5,024 ft
Prominence: 364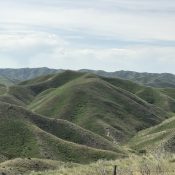 This peak is not in the book. Additional Danskin Mountains access information can be found in the book at (D)(1) at pages 154-5 and (G)(1) at page 156. Also see the following website page: Danskin Mountains OHV Trails.
Information and the suggested name for this peak was first provided by Erik Pohlmann. I have added additional route information based on a 2019 ascent. Updated June 2019
---
Peak 5024 (Indian Peak) by Eric Pohlmann
This peak is located near the middle of Danskin OHV Ridge Trail 500 a long way from all trail-heads. I don't feel there isn't anything particular unique and attractive about Indian Peak, other than ascending the peak requires a long trek due to the private property on its west side which blocks shorter approaches.  Fortunately, its location in the middle of Danskin OHV Ridge Trail 500, a trail that traverses much of the northwestern Danskin Mountain crest provides good access. Trail 500 is relatively long and undulating in nature.  Thus, the round-trip elevation gain accumulates faster than I anticipated.
Access and Route, Class 1
Access is from I-84 and the Blacks Creek Road. [(G)(1) page 156].
Trail 500, along with many of the spur trails that can be used to access it, is a well used and maintained often and therefore easy to follow from any of the four official Danskin trail-heads: Three Point Mountain, Bender Creek, Willow Creek, and Case Creek.  Many of these routes are easily mountain bike-able for the strong and skilled rider and contain very little hike-a-bike terrain, so that may be a good option to access Indian Peak due to the distances required, but beware Willow Creek can be swollen during the spring and requires MANY creek crossings if accessing from the Willow Creek Trail-head.  For the easiest biking stick to the double track ATV trails, the single track OHM trails become more technical.
The four routes shown are the most direct from each of the four said trail-heads, combine them for possible loop options.  The three Bender Creek, Willow Creek, and Case Creek routes consists of varying terrain and pass through enjoyable forested terrain.  The Three Point Mountain provides large views the entire trip, but is very exposed with no cover.
Start at the Bender Creek Trail-head, follow Flat Creek Trail 300 east to Trail 540. Take 540 up to Ridge Trail 500 and follow it to the summit of Indian Peak. To complete the loop continue on Ridge Trail 500 to Ridge Trail 560. Descend down Beaver Creek Trail 316 to Beaver Creek Trail 300. Alternatively during periods of high Spring runoff during high spring runoff when Willow Creek Trail#400 is submerged return via Flat Creek Trail 300
Of course, you can always reverse you path and return to the Bender Creek Trailhead without making the loop. This will save you significant distance.
Three Point Mountain Trailhead Route, Class 1
Access
To reach the Three Point Mountain Trailhead leave I-84 at Exit 64. Drive north for 6.3 miles, turn left onto the Blacks Creek Road and follow it for 4.0 miles to the the signed junction for FS-189A. Turn right and drive 0.2 miles to the trailhead.
FS-500 Route, Class 1-2
FS-500 traverses the southern escarpment of the Danskin Mountains weaving its way along ridges and crossing drainages. This is an ATV trail which varies in quality but is easy to follow for its entire distance. The trail crosses the northern ridge of Peak 5024 roughly 200 feet below the summit, Follow the north ridge to the summit. Round trip distance is 18.4 miles with 2,286 feet of gain. The entire route offers scenic views but no shade.
Mountain Range: Boise Mountains
Longitude: -115.81419 Latitude: 43.46829
Share this post ...