Elevation: 5,913 ft
Prominence: 413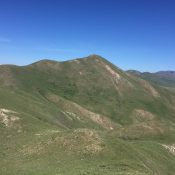 This peak is not in the book. There are two routes set out below. Additionally, this peak can be climbed as part of a three-peak ridge traverse that includes Peak 5913 (Cayuse Peak), Peak 5780 (Mennecke Peak), and Peak 6021 (Teetors Peak) found at this link: Cayuse-Mennecke–Teetors Traverse by Livingston Douglas. Updated November 2019
---
Peak 5913 is the highest Danskin Mountains peak in the east end of the range. Its summit ridge is capped by a small rocky outcrop. The peak sits in the middle of the main Danskin Crest which trends from southeast-to-northwest and forms the south wall of the spectacular South Fork Boise River Canyon. The north side of the peak quickly drops down to the canyon. The south side of the peak drops down to a broad, flat basin which is mostly on private land. USGS Long Tom Reservoir
Peak 5913 is accessible from FS-131/Pony Creek Road/Prairie Road [(E)(1) on Page 155]. Follow the road north from ID-20 for 7.6 miles to a broad saddle. Continue over the saddle and downhill to a point roughly 8.1 miles from ID-20 where an unsigned 2-track road on the left leads west toward the Long Tom Ranch. The summit is roughly 0.8 miles and 700 feet above this junction. The 2-track road is passable to high-clearance vehicles when dry.
I climbed the peak by gaining the crest east of the Long Tom Ranch and then following the undulating crest to the summit. This route was 2.0 miles from my parking spot with 1,350 feet of gain and involved another 400 feet of gain on the return. The route was a quintessential ridge walk. All shorter route options are potentially blocked by private land. There is a 4WD road that crosses over the peak's west slopes that may be open to public access. I have not researched that route.
Danskin Crest Route, Class 3
To climb this route, turn onto the 2-track road discussed above and follow it west. The country is open and you can spot several adequate lines of ascent that you can follow up to the ridge. Once on the ridge crest, follow it toward the summit. You will encounter one fence as you drop off Point 5618. The Boise National Forest fence uses clips to secure the wire. You can undo one clip to raise the wire and easily cross under the fence. Please return the wire to its original state. From this point, the route descends down to the next saddle and then begins the steep climb to the summit. Find faint game trails that will aid your ascent. The summit is formed by a ragged rocky outcrop. Climb a 10-foot rotten chimney on its southeast side to reach the top of the rocky block.
---
West
Ridge, 
Class
2 by Livingston Douglas 
A
ccess
Same as described above for the Danskin Crest route
The Climb
The saddle just to the west of the summit is about 5,500 feet in elevation and has a decent ATV trail/road crossing it. From the saddle, scramble east up the ridge to a minor ridge point. Drop about 15 feet to a minor saddle and continue northeast up the ridge to the hump just north of the true summit, which is a rocky outcrop about 100 yards to the south on the ridge crest. Should you be interested, this gentle hump is five feet lower than the top of the rocky outcrop. The terrain on this climb is mostly sagebrush. It's not too bad.
Mountain Range: Boise Mountains
Longitude: -115.59689 Latitude: 43.35449
Share this post ...