Elevation: 6,620 ft
Prominence: 360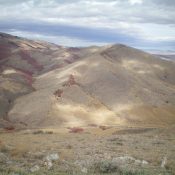 This peak is not in the book. Published November 2020
---
Peak 6620 is a nice ridgeline summit on a north-south ridgeline located just north of North Canyon and just east of Stump Canyon. This area has a lot of private land, so be careful. The south end of Peak 6620 is closed to the public as is the first section of Stump Canyon Road. You must do an "end-around" to avoid the posted, fenced, private land. This route does just that and remains on BLM land the entire way to the summit. USGS Ireland Springs
Access
From the west end of Pleasantview on ID-38, turn right/north onto North 5400W. Drive just over 2 miles to reach [signed] West 300N. Turn left/west onto West 300N/North Canyon Road and drive 2.9 miles to its junction with [gated, locked, posted] Stump Canyon Road. Drive another 0.1 miles on North Canyon Road and park alongside the road. (5,300 feet).
Please be advised that, early on, West 300N/North Canyon Road makes a quick jog left/south after 0.5 miles then jogs right/west after another 0.1 mile to continue its westward journey up North Canyon. Please note that the USGS topo map mis-labels North Canyon Road as Stump Canyon Road and mis-labels North 5400W as Sand Ridge Road.
South Ridge, Class 2
The Climb
From the parking pullout along North Canyon Road, walk about 100 yards west on North Canyon Road to just past a fence row to a "public lands" sign. Leave the road here and begin the bushwhack through sagebrush and some aspens/pines to reach Stump Canyon Road just past the private property boundary. Follow the left/west side of the fence row as it heads north to cross a shoulder. Continue heading north along the fence row (which becomes dilapidated) until you approach a prominent side gully coming in from the left/west. Descend diagonally right/northeast to the gully and follow it a short distance on an old 2-track road to reach Stump Canyon Road just above the gated, posted road closure.
From the gated road closure, you have two options. First (and most direct), you can bushwhack east directly up onto the south ridge of Peak 6620. This short section is on private land but I encountered no fencing, orange paint, or signage to prohibit entry. Second, you can hike up Stump Canyon Road about 0.2 miles and then bushwhack east up onto the south ridge. This route is entirely on BLM land. Either way, get up onto the crest of the south ridge by bashing through sagebrush. Once on the ridge crest, head due north to the summit of Peak 6620.
The ridge terrain is scrub with a talus/scree base and is somewhat clumpy and tedious. The ridge makes a few minor wiggles on its way to the summit. The summit had no cairn on the highest boulder so I built one. Peak 6620 is on the back/east side of some of the highest peaks in the Pleasantview Hills, so it provides a unique perspective of some of the nearby [higher] peaks. Stump Canyon Road is an ATV road/trail that connects to Peak 7217 and MLD Benchmark at a [signed] junction at the saddle between those two peaks.
Mountain Range: Pleasantview Hills
Share this post ...