Elevation: 6,984 ft
Prominence: 244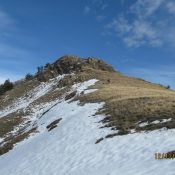 This peak is not the book. Published January 2022
---
This steep climb out of Cub River Canyon in Franklin County offers a satisfying challenge for novice to experienced climbers.Nearby peaks in the Self Help drainage provide a muti-peak challenge for strong climbers. Bereft of the requisite 300 foot prominence, but providing a brisk 1800+ foot climb in just under two miles, this peak is ignored by peak baggers unfamiliar with this attractive area in the Bear River Range. USGS Mapleton
Access
Between the towns of Preston and Franklin, turn east from US Highway 91 onto Cub River Road. Continue east for about 10 miles until you come to Albert Moser Campground on the south side of the road. There is a large winter recreation parking area across the river from the campground. Park in the parking area and cross the footbridge over the river or drive the campground road to the last campsite. (There is limited room to park in the campground unless you wish take a campsite and pay the fee, so parking in the parking area is recommended.)
Unfortunately access to the FS 306 trailhead is quite awkward,requiring hikers to unavoidably pass directly through the last campsite, which is unfortunately the nicest and therefore most frequently occupied site in the Albert Moser campground. Since this trail is open to horses, hikers and motorcycles, this creates a considerable disturbance to anyone camping at that site.
West Ridge, Class 2
The generally excellent trail climbs south abruptly and steeply up and south along the western flank of the ridge and risessteadily up onto the mid-level flats or benches that are a common feature of eastern Cache Valley.
At approximately a mile the trail emerges from the shadow of the high ridge it has been flanking and the terrain flattens as you enter the bench land between Cub River and Foster Creek.
These relatively flat, rocky benches are the remnant of the Provolevel beaches of ancient Lake Bonneville and form a unique and highly visible transition between the lower foothills of the Bear River and Wasatch Range and the higher peaks. The bench lands offer mostly open terrain interspersed with lines of Utah Maple, conifer, and Quaking Aspen trees. In these open areas the views of the valley below and the surrounding mountains from this elevation become very pleasing. The area is also heavily used as a grazing area for cattle.
At approximately a mile, several large cairns sit at the gate of a broken down fence line. The cairns likely were placed by family and friends of a young man who died a few years ago in the canyon below. There is a memorial on the summit of Self Help dedicated to the young man.
From the cairns it is possible to head directly east to the summit but I chose to follow the trail beyond this point to get clear of several dense looking lines of trees and brush that blocked the way.
About one third of a mile after past the cairns, the trail begins to curve eastward around the intermittent groves of Utah Maple and brush. If you look east you will see the rocky crown of Self Help appearing high above the bare hill. Choose your route from this point up the steep bare hillside to the summit.
Three peaks form the small but beautiful Self Help Hollow, "Self Help" Peak 6984 itself forms the rock-capped northern slopes of Self Help Hollow. Two other small attractive unnamed peaks form the back (eastern) and southern walls of this beautiful enclosure.
The summit is a jumbled mass of broken blocks. More adventurous climbers can take on the western to southernaspects of the face, while the more moderate route is to move east under and around the broken rock to gain the summit from the south-to- east. Distance 2.15 miles round trip,
Mountain Range: Bear River Range
Longitude: -111.6846 Latitude: 42.1306
Share this post ...