Elevation: 7,047 ft
Prominence: 987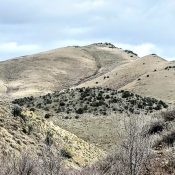 This peak is not in the book. Rick Baugher's trip report is set out at the bottom of the page. Updated November 2021
---
This peak is the highest point in the Malad Range which is a subrange of the Bannock Range. No summit register was found. The entire mountain and surrounding area is heavily used by wildlife and livestock. USGS Weston Canyon
Access
The shortest and most logical approach to this peak is by taking Highway 36 from either Weston or Malad and turning west onto Dry Canyon Road just south of Weston Canyon. At 4.6 miles from Highway 36, the road divides into FSR 1224 on the south and FSR 053 on the north.
I recommend parking in the open area to the east of the small stream that crosses the road just before the road divides. This avoids the necessity of crossing the shallow but very muddy stream later. Not knowing this, I parked a bit farther up the right hand FSR 053 and was forced ford the stream. Recent heavy rains had deposited a great volume of silt into the stream bed making for a muddy crossing.
West Gully/West Ridge, Class 2
Follow the well-beaten cow/motorcycle tread north for approximately 1/4 mile as the trail climbs and turns gradually east.
After mild climbing trending east through a low saddle, the Malad HP summit comes fully into view, a summit cairn clearly visible at the top among some sparse trees. From here you can easily choose your preferred route.
The peak rises steeply, providing a stimulating 1,147 feet of gain in just over a mile. The high desert steppe setting is sparsely vegetated other than some areas of sage and small deciduous  and conifer trees in the dry stream courses allowing expansive views of Northern Utah and Southern Idaho while ascending.
Views at the top are satisfyingly spectacular with the massive, continuous, 9,000+ foot high rimof the Bear River Range across Cache Valley enclosing the view to the east, and the wide and deep vistas of the Basin and Range features of the Great Basin receding into the distance in all directions . The surrounding Malad Range has numerous accessible peaks in the same elevation range as Malad HP. Several climbers have claimed up to five of these peaks in one day.
---
Rick Baugher Trip Report
For quite awhile, I assumed that station "Dalam" (7,005 feet) overlooking Malad City was the highest peak of the Malad Range in Idaho. Dalam, by the way, is a cute surveyor spelling of Malad backwards. Subsequent investigation showed another ranked Idaho Malad peak was higher. On March, 28, 2012, I drove up Dry Canyon on the east side of the range. Parked at first signs of deep mud (5,150 feet). Motorcycled to my intended start spot along road at 6,000 feet. Hike up the SSW Ridge. Steep incline but good tread on soft ground to "Idaho Malad Range High Peak" (7,047 feet). On mostly snow-free summit with lots of deer and sheep droppings. Noted sheepherder cairn and a late 1960's Hires root beer can. An agreeable 1.5-hour hike. USGS Weston Canyon
Mountain Range: Bannock Range
Longitude: -112.11559 Latitude: 42.07089
Share this post ...