Elevation: 7,314 ft
Prominence: 334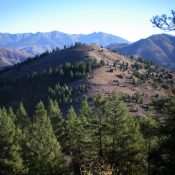 This peak is not in the book. Livingston's route description for this peak covers an ambitious traverse starting at the Bear Creek Trailhead and climbing over Peak 7314, Peak 7860, and Peak 9142 before reaching Big Elk Mountain. Published November 2020
---
Peak 7314 is one of five peaks that surround Muddy Creek: Peak 7314, Peak 7860, Peak 9142, Big Elk Mountain, and Peak 7911. This is a challenging multi-peak adventure that covers 11.0 miles with 5,150 feet of elevation gain round trip. It includes some trail hiking, a bit of bushwhacking, and a long, up-and-down ridge traverse. This climb is the first leg of that adventure. USGS Palisades Dam
Access
From the junction of US-26 and ID-31 in Swan Valley, drive about 10 miles southeast on US-26 to a [signed] turnoff for "Little Lemhi/Riverside Park" just north of Palisades Reservoir Dam. Turn right/south off US-26 and reset your odometer. Follow the paved road south briefly then right/west as it skirts the Riverside Park Campground and crosses the Snake River on a good bridge. Please note that the USGS topo map does NOT show this road or bridge crossing but the Caribou-Targhee National Forest Map does show it.
Please be advised that the Palisades Dam Road is closed and has been closed for years. Both the USGS topo map and the National Forest map make the dam road look open but it's not. At 2.1 miles, turn left onto [signed] Bear Creek Road. At 4.7 miles, reach a [signed] "T" junction. Go right on FSR-058/Bear Creek Road. At 10.3 miles, reach the [signed] right turnoff for the Bear Creek trailhead. Turn right here and drive 0.3 miles to the trailhead parking area (5,660 feet). The Bear Creek Trail/FST-273 heads west up Bear Creek from here.
Trail update
Muddy Creek Trail is now FST-272, not FST-164 as the book indicates on Page 371 under the Big Elk Mountain information. After 1.7 miles, FST-272 reaches a [signed] trail junction at a ridge saddle on the long north ridge of Big Elk Mountain, just southwest of Point 7010. FST-272 is labeled FST-044 here, for whatever reason. At the [signed] triple junction on the saddle, go left/south onto FST-147/Big Elk Mountain Trail to climb to the top of Big Elk Mountain. Once again, this trail is NOT labeled FST-164 as the book indicates. Sadly, the USGS topo map fails to show ANY of FST-147/Big Elk Mountain Trail and only shows the first mile of FST-272/Muddy Creek Trail. The trail signage at the base of FST-272 (at its junction with FST-273/Bear Creek Trail) incorrectly states "Big Elk Creek Trail 1.7 Miles" when it should state "Big Elk Mountain Trail 1.7 Miles."
Northwest Ridge, Class 2
The Climb
From the trailhead, hike 0.7 miles west on FST-273/Bear Creek Trail to a signed junction with FST-272/Muddy Creek Trail. Go left onto FST-272. Almost immediately, you must ford Bear Creek. There are no tree logs, boulders, or foot bridges to help here. After fording the cold creek (only knee deep and not too powerful), hike south up FST-272 for about a mile as it follows the right/west side of Muddy Creek. Leave the trail when you reach the base of the northwest ridge (at about 6,220 feet).
There is a prominent diagonal side gully on the left/southeast side of Muddy Creek just past this point. Jump across [small] Muddy Creek and bushwhack east through some thick aspens and brush to reach the crest of the northwest ridge. Bushwhack southeast up the ridge through a brushy forest to reach a juncture with a ridge coming up from the left/north. Continue climbing southeast up the ridge to reach the small, open summit of Peak 7314. There is a decent summit cairn on top. The summit views are outstanding.
Southwest Ridge, Class 2
The Descent
From the summit, descend southwest on a ridge in mostly open brush and sagebrush to reach the 6,980-foot connecting saddle with Peak 7860. This concludes the first leg of today's five-peak adventure. Peak 7860 is up next.
Mountain Range: Caribou Range
Longitude: -111.24339 Latitude: 43.25619
Share this post ...