Elevation: 7,333 ft
Prominence: 553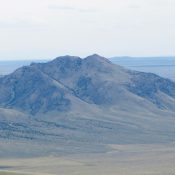 This peak is not in the book. Published in June 2018.
---
Peak 7333 is an attractive peak that lies slightly southeast of Arco Peak and northeast of the town of Arco, Idaho. Climbing the peak from the north will take you through a mining claim from 1996 that is marked with white PVC poles. No evidence of active or historic mining activities outside of the markers was present, and no mining features obstructed our climb.
This area is actively grazed though no cows were present during our stay/climb in early May. However, cows were brought into Sutton and Jack Waite canyons further to the northeast while we were there. With recent warm temperatures, the ticks were actively waiting for the cows throughout the area. We encountered 10 ticks during our 2-day stay, including one that blew into the FJ, while we were driving with windows down, and attached itself to the ceiling.
But ticks were the only downside. This peak was a fun, short, steep, straightforward climb that quickly rewards you great views of the area!
---
Access
Traveling west toward Arco, Idaho, on Highway 26, turn right onto Highway Drive at one of several points. These points include Highway Drive's south-southeast start west of Box Canyon Road (which heads south), or at HillCreast Cemetary, or in Arco just west of Pickles Place. Once on Highway Drive, navigate to 2450 North and/or follow any signs that take you toward Arco Pass Road. Travel on this good quality gravel road north and then east until you reach the signed turnoff for the pass (which proceeds north). However, do not turn and stay on Arco Pass Road. Continue east watching for a gravel road that heads south, and then southwest, toward Peak 7333 around 5722 feet.
Travel on this road as it heads toward the peak and into Braithwaite Canyon. Continue, as you can, to a point northeast of the peak. The peak's approach is an obvious wide gully between two north ridges and you will be hiking toward that feature. We found only two reasonable places to pull over and/or camp in this sagebrush-full landscape. We chose a grassy point around the 5860-foot elevation next to the road.
With a four-wheel drive and high-clearance, the rutted road was passable. But approaches in the Arco Hills area vary significantly. Just a few canyons north we could not even cross the Forest boundary because of a huge road washout. So, your hike to Peak 7333 might be slightly longer based on your vehicle's capabilities.
---
Route
From Arco Pass Road, you have a clear view of the northern approaches to scout from your vehicle. While both north ridges appear doable, we found the gully between the two ridges having fewer obstacles. As you scout Peak 7333 from this level, you will see two possible summit highpoints, one on each side of the gully. However, it is the western rounded highpoint that is the true summit and not the eastern block-shaped highpoint.
From the point on the road where you can park, head south toward the obvious gully, possibly crossing a lower section of the eastern of the two north ridges to enter the gully. Continue up the gut, looking for the easiest travel through sagebrush and juniper. Our GPS track shows our decision to climb up and through a rock garden (path on the viewer's left). However, this was an unnecessary, and slower, side trip. Stay in the gully, crossing to the left side (viewer's right on the map below) of the gully when it narrows heading toward what know looks like a grassy ramp between the two summit highpoints.
Continue up the steep ramp heading for the saddle between the high points. At the saddle, turn west and climb up a short section of easy rock to reach the true summit. From here, easily enjoy views of the Arco Hills, King Mountain, Arco Peak, Big Southern Butte, Lost River Mountains, Snake River Plain, and the east end of the Boulder Mountains.
USGS Topo: Arco Hills
Mountain Range: Lost River Range
Longitude: -113.22459 Latitude: 43.655529
Share this post ...