Elevation: 7,714 ft
Prominence: 3,374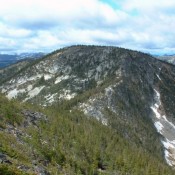 Climbing and access information for this peak is on Page 37 of the book.
---
This peak is the highest point in the Idaho section of the Selkirk Mountains and is also the highest point in Boundary County. This double distinction makes this unnamed peak more popular than one would expect. The Selkirk Range is home to grizzly bears. I have heard reports from climbers who have spotted bears and/or bear scat while ascending the peak, so take necessary precautions.
Victor Zhou's comments below are from his 2016 ascent. Also use the link below to see Dan Robbins' trip report for an updated information on the hike to the summit. Lists of John shows this peak with an elevation of 7,714 feet. It also shows the the USGS map which shows the 7,709-foot elevation. USGS Pyramid Peak
Dan Robbins measured the trip to the top and back at 10 miles with 4,000 feet of elevation gain.
Victor Zhou wrote the following after his August 4, 2016 ascent: The highest peak in the American section of the great Selkirk Range, which stretches all the way into Canada, is an unnamed point near Fisher Peak. It's reached via a trail and some cross-country ridge traversing for about 10 miles round trip with 4,000 feet of elevation gain if you climb Point 7680 twice. The trail above 6,000 feet is in pretty rough shape, as I traversed probably 50 downed trees, probably fairly recent blowdown since Greg doesn't remember them being that bad last year.
Tricky Class 3 climbing on the way up with brushy/mossy surfaces, but I was able to find the proper Class 2-ish route on the way down. The upper 2/3rds of the ridge can be climbed/downclimbed by sticking to the ridge crest (climber's right on ascent) for easy scrambling. My left glute started hurting really badly coming down this thing and I'm sure that all of the climbing over trees didn't help. I wandered about 0.1 miles south of the south higher summit to get some clear (relatively) views towards the most rugged sections of the Selkirks. Note the peak has traditionally held an elevation of 7,709 feet but recent evaluations have assessed it at 7,714 feet.
Mountain Range: Selkirk Mountains
Longitude: -116.5543 Latitude: 48.8452
Share this post ...