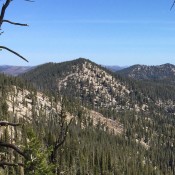 This peak is not in the book.
---
The Payette River forms the southern boundary of the western Salmon River Mountains. The mountains north of the river climb steeply out of the river's canyon and form a series of complicated ridges and deep drainages. The ridges  reach over 8,000 feet in the area around Scott Mountain. While the area around Scott Mountain is the highest point in this region, the Lightning Ridge to its northwest is also worth a look. As an aside and a teaser, I note that though the spot designated as Lightning Creek Rocks on the maps does not look that impressive, there is one granite spite farther to the northeast that is clearly an impressive technical problem. I doubt it has been climbed (see the photo below). Although this area has not received calls for wilderness designation, it is wild, difficult country. USGS Lightning Ridge.
Peak 8220 and Peak 8202 are located northeast of Scott Mountain along a north-south ridge line that departs from the road that leads to Scout Mountain. Access to this area is via the Deadwood Reservoir Road described on page 140 under [(D)(1.2)]. The road to Scott Mountain leaves this road at its highest point, roughly 10.0 miles from the pavement. Climb this peak by parking in the saddle on the east side of the ridge (see my GPS track below). The road is wide enough at this spot for two vehicles to park.
The ridge walk out to Peak 8220 is scenic and moves through open forest and meadow. My GPS recorded 2300 feet of elevation gain for the 7.7 miles round trip journey. We crossed Peak 8202 on the way out and bypassed it on the return trip. The ridge is without major ups and downs but they do add up. Follow the ridge crest alone game trails to Peak 8202 and then descend to the connecting saddle and climb up the peak's west slopes to the summit ridge. The summit high point is comprised of granite boulders.
Mountain Range: Western Salmon River Mountains
Longitude: -115.75479 Latitude: 44.21869
Share this post ...