Elevation: 8,386 ft
Prominence: 696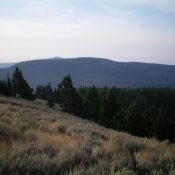 This peak is not in the book. Published November 2020
---
Peak 8386 is a thickly-forested ridgeline summit located south of Targhee Pass on the Continental Divide in the Henrys Lake Mountains. It is most easily climbed via a bushwhack up the north shoulder/north face from the Howard Spring picnic area along US-20 just west of Targhee Pass. The summit is a miserably thick forest with excessive blowdown/veg and offers no views. If you like misery, you will LOVE this peak! If you'd like a double dip of misery, bushwhack up the north ridge as I foolishly did. My worst bushwhack of 2020. USGS Targhee Pass
Access
Targhee Pass (7,072 feet) is located along US-20 a few miles west of West Yellowstone, MT. Drive a short distance from the pass southeast on an unsigned spur road to reach the [hidden] CDT trailhead and large parking area. Park here.
North Ridge, Class 2
The Climb
From the CDT trailhead parking area on the south side of Targhee Pass, bushwhack southeast through a blowdown-strewn, veg-ridden forest in an area of relatively flat land. Continue southeast until finally reaching the base of a relatively steep, forested face. Climb southeast up the steep face to reach the crest of the northwest spur of the north ridge. Follow the steep spur southeast and reach an open, rocky ridge section with a very tall cairn and amazing views. Enjoy the view because it is the only one that you will have for the remainder of this punishing climb. Soon after the tall cairn, find a good trail on the left/north side of the ridge. Follow this trail through a forested section to reach the juncture with the north ridge proper in an open area of grass and scrub. ID/MT boundary marker #715 (shown on the USGS topo map) is nearby. The trail now disappears as quickly as it appeared.
The open terrain does not last for long. The ridge soon bends right-ish/southwest and enters the pine forest. The forest is unbelievably thick and large blowdown is strewn everywhere. It is almost impossible to make progress here. Worse yet, the ridge steepens considerably. Bushwhack through this awful mess upward and make progress a foot at a time…a fallen tree at a time. Higher up, the ridge bends left-ish/south and becomes more rounded and less well-defined. Navigation now starts to become a problem. Worse yet, the ridge flattens and it's hard to know which way to go. You have absolutely NO VISUALS due to the thick forest. The blowdown density, however, eases up and there are a few spotty game trails in this flat area.
Keep pushing southward and try to stay on the ridge crest with the drop-off on your left/east side always nearby. After almost ½ mile of this flattish ridge area, bushwhack right/west to reach the summit area. Use your GPS if you must in order to find this turning point because it is not obvious. You may see a gully to your right/west, as I did. The ridge turn is just past that gully. There is only about 80 vertical feet between you and the elusive, forested summit. Once you reach the flat summit area, bushwhack around in the thick forest to find the high point. It's not obvious because the area is quite flat and thickly forested. I finally found an open patch within the dense forest and, alas, there was a modest summit cairn next to a tree log. It is a wonder that I stumbled upon it. It appeared to be on the high point, if there actually is one.
North Face/North Shoulder, Class 2
The Descent
Well, I sure as hell wasn't going to descend that awful ascent route. I decided to minimize my pain by heading as directly at US-20 as I possibly could. From the summit, descend north into a gully and then contour north out of the gully onto a rounded, forested shoulder. The bushwhack to this shoulder is thick with trees, blowdown, and brush. But, thankfully, the shoulder is semi-open with much less brush/veg to wrestle with. THIS is manageable terrain. FINALLY.
Descend northwest on this shoulder down to a flatter area where the shoulder bends right-ish/north and descends through thicker forest and brush to reach a dry drainage just east of the Howard Spring picnic area along US-20. Cruise across a final strip of field grass to reach the [blessed] pavement of US-20. Walk right/northeast up US-20 for 0.6 miles to return to Targhee Pass and your parked vehicle. Be careful to avoid getting hit by the speeding truck traffic on US-20. It is a busy, busy highway. This descent route was FAR BETTER than the north ridge ascent route.
Mountain Range: Henrys Lake Range
Share this post ...