Elevation: 8,042 ft
Prominence: 342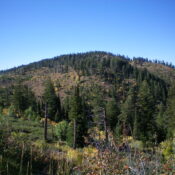 This peak is not in the book. Published January 2023
---
Peak 8042 is located on a high ridgeline just south of Browns Canyon in the Webster Range. It is tucked in behind another ridge that separates it from FSR-107/Lander Cutoff Road, so it's not easy to reach. FSR-1229 (gated and closed to motor vehicles for most of its length) makes for a good hiking trail to get close to the summit area. USGS Upper Valley
Access
From ID-34 east of Wayan, turn left/south onto [signed] Lanes Creek Cutoff Road. This road is a smooth, well-maintained dirt/gravel county road. Head south on Lanes Creek Cutoff Road for 3.1 miles to an unsigned junction with the Lander Cutoff Road/FSR-107. Turn left/east onto FSR-107 and drive a short distance, cross a small creek on a bridge, and reach BLM land (a short patch) then enter the Caribou National Forest. Drive 5.5 miles up FSR-107 to an unsigned junction with FSR-1229 on a high saddle in a large meadow (7,340 feet). Park at this junction. GPS coordinates: 42⁰53'34"N, 111⁰14'21"W. FSR-1229 has a permanent, gated road closure at 0.2 miles. There is limited parking at this gate so it is best to park along FSR-1229 near its junction with FSR-107.
Map Errors
The USGS topo map fails to show any of FSR-1229. The Caribou National Forest Map shows a junction with FSR-368. That road and junction don't exist.
Northeast Spur/North Ridge, Class 2
The Climb
From the road junction, hike about 2.5 miles up FSR-1229 to a flat, open area where the weak remnants of the road head left/southeast up the main ridgeline, where the road unceremoniously ends. Bushwhack a short distance right/west to a brush-choked bluff then descend diagonally right/southwest in a lane free of willows to reach the open short grass meadow that sits at the head of a prominent gulch. From the open meadow, climb up a game trail a short distance onto a whitish-rock, lateral ridge.
Once on the ridge, scramble right/north up the ridge to near Point 7730. Skirt the left/south side of the point and head left/west to a minor saddle. From the saddle, scramble southwest up a ridge that has significant brush to contend with. This ridge (the northeast spur) leads up to the equally-clogged north ridge of Peak 8042. Find a game trail on the right/west side of the north ridge to help get past the ridge chop, ridge pines, and dense ridge brush. Some of this ridge climb is in open brush (early on) but thick forest takes over higher up.
Reach Point 8017 (a minor, rocky ridge outcrop) and continue on a tedious forest/brush bushwhack to reach the rocky, ridgeline summit of Peak 8042. The summit has some triangulation wiring, pieces of triangulation posts, and a summit cairn, which I built up. The actual high point is a boulder about 25 feet to the north. The summit views are limited due to the nearby pine forest. The summit ridge is a special mess of boulder and brush and it is hard to tell exactly where the high point is. I overshot it a short distance and came up on the ridge a bit south of the rocky high point.
There is zero visibility from Point 8017 to the summit and some climbers might not actually reach the true summit, thinking that Point 8017 (only 25 feet shy of the true summit) is the high point, but it most certainly is not. FSR-1229 is never signed. It weaves and changes direction significantly. It also has some ups and downs. That being said, it is a useful old road to get in the neighborhood of Peak 8042.
Mountain Range: Peale Mountains
Longitude: -111.2674 Latitude: 42.8747
Share this post ...