Elevation: 8,473 ft
Prominence: 893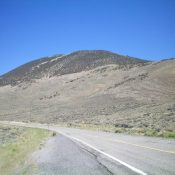 This peak is not in the book. Livingston Douglas created the original page for this peak. His route can be characterized as the 'Hard Man" route. I climbed the peak from the northwest via a much easier "Old Man' route. My route is found down the page. Updated July 2023
---
Peak 8473 is the high point on a massive ridgeline on the east side of US-93. It towers over Willow Creek Summit and its high point is at the southeast end of the ridge. The shortest ascent route is from Willow Creek Summit and the southwest face. This is the first leg of a 2-peak adventure that includes Peak 8473 and Peak 8435. The journey covers 8.5 miles with 2,500 feet of elevation gain round trip. USGS Dickey Peak
Southwest Face/Northwest Ridge, Class 2
The Climb
From [signed] Willow Creek Summit on US-93 south of Challis, scramble north-northeast straight up an easy grassy slope, angling left-ish to reach the most mahogany-free section of the southwest face. This mostly-open area of the southwest face has a few scattered mountain mahogany trees. Move left/northwest if you experience any issues with mountain mahogany to reach an open but STEEP grassy slope.
Once atop the southwest face, you are on the semi-open terrain of the northwest ridge. Scramble southeast along the ridge crest, avoiding the scattered mountain mahogany as necessary. There are a few minor ups and downs along the way. The summit of Peak 8473 has a decent cairn and a triangulation post laying on the ground nearby.
North Ridge, Class 2
The Descent
From the summit, descend an ATV trail on the crest of the north ridge down through a beautiful conifer forest and into open terrain/scrub all the way to a fence row. Leave the ATV trail here and follow the fence row right/northeast down to a 2-track road. Go right/southeast on the 2-track and follow it briefly to reach a small saddle at the head of a dry gully. This concludes the first leg of today's 2-peak journey. Peak 8435 is up next.
---
Northwest Ridge, Class 2 by Tom Lopez
Access
The unnamed access road leaves US-93 32.0 miles north of Mackay, Idaho and 22.0 miles south of Challis, Idaho. There is a large parking lot on the east side of the highway where this road begins. This narrow road is potentially suitable for high clearance vehicles but a 4WD with off road tires is recommend. The road runs northeast for a short distance and then makes a sweeping turn as it starts to climb up this massive peak's northwest ridge. In 2.4 miles after gaining 1,400 feet of elevation the road reaches a small electronics facility. Although the road continues on it does deteriorate after this point. I recommend parking at this point.
Northwest Ridge, Class 1+
As Livingston points out this is a massive peak and the ridge from the electronics facility is broad and mostly open terrain with a few groves of trees along the way. The road past the electronics facility drops off the ridge in several places. Rather than losing elevation you can stay on or near the ridge top. Round trip to the summit is 2.8 miles with 350 feet of elevation gain.
Mountain Range: Lost River Range
Longitude: -113.95679 Latitude: 44.23379
Share this post ...