Elevation: 8,909 ft
Prominence: 329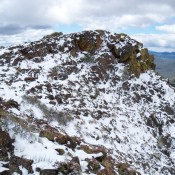 This peak is not in the book. Livingston Douglas added two additional routes to the original post. Updated November 2020
---
Stani Peak is a small peak on the main White Knob Mountains Crest. This sagebrush-covered mountain is located between Sheep Mountain (9,649 feet) and Big Flat Top/Alder Knob (9,380 feet). USGS Big Blind Canyon
Livingston Douglas Routes
Access
Antelope Creek Road/FSR-137 is located 11.5 miles north of the Conoco gas station at the south end of Arco, ID on US-93. The junction is poorly signed, so look for the road itself. Drive 9.1 miles southwest on FSR-137 to a signed junction for Waddoups Canyon Road. Drive up Waddoups Canyon Road to its high point on a ridge saddle. The road turns sharply left/south here (7,700 feet). This is the perfect spot to launch an assault on the south ridge of Peak 8909.
South Ridge/Southeast Face, Class 2
The Climb
From the road saddle, it may appear that the steep, magnificent ridge point directly to the north must be Peak 8909. Alas, it is only Point 8763 and you have more work to do after you reach it. Peak 8909 is not visible from here and won't be visible for quite some time. From the saddle, scramble north up the narrow, weaving, rocky, outcrop-ridden south ridge to reach the top of Point 8763. There are some elk trails to help you get there. From Point 8763, descend north to a saddle on easier, less rocky terrain.
From this saddle, head northwest across the saddle on an intervening ridge. You can finally see Peak 8909 from here. It's been hiding from you until now. From that saddle, descend diagonally left/northwest to reach a final saddle at the base of the southeast face of Peak 8909. Cattle/game trails will help you conquer the sagebrush on this diagonal descent across a face to reach the saddle. Bushwhack northwest from the final saddle through sagebrush (no trails to help here) to reach the upper south ridge of Peak 8909. Follow the ridge north a short distance to reach the summit. The summit has a small ridgeline cairn and gives you a good look at the ugly, rugged west aspect of Sheep Mountain, the next objective on today's three-peak odyssey.
Descent/Traverse to the Southwest Ridge of Sheep Mountain, Class 2
The Descent/Traverse
From the summit, retrace your route back to the final saddle. Scramble east up to the top of Point 8782 then descend east to a minor saddle. From here, follow an elk trail northeast to skirt the left/northwest side of a rocky ridge point to reach a wide-open saddle at the base of the imposing southwest cliffs of Sheep Mountain. For the final leg of this journey, please consult the posting for Sheep Mountain (9,649 feet).
---
Rick Baugher Trip Report
"On 6/6/12, I was desperate to find a new peak in my local area. There had been a huge drop in temperature over the past two days from the 90s to 30s. Low cloud deck and strong winds almost made me turn around. Past Arco, there was some blue sky, but quite a bit of fresh snow in the mountains.
Parked along Antelope Creek Road at Waddoups Creek Road. Motorcycled up Waddoups Creek Road and soon got into some serious mud. Parked the bike at 7,000 feet (snowline) at the Right Fork Waddoups Creek, 1.5 miles short of the road's end but within hiking range. Began a muddy, slip-slide hike. Bawling cows on the range. Snow flurries. Met a couple of cowhands on horseback. Chins tucked into collars, a time for stoicism.
From Mountain Spring, ascend off-trail to Point 8782. Descend west to an 8,580-foot saddle, then scramble up a sage slope to the summit of Stani Peak. 'Stani' is a Greek word meaning 'sheepfold.' No signs of previous ascent. Built cairn, left register. Slip-slide return same way on 1″-3″ of snow. Lucky to get even one peak today."
Mountain Range: White Knob Mountains
Longitude: -113.61019 Latitude: 43.77589
Share this post ...