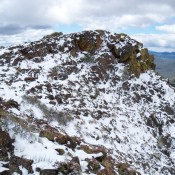 Rick Baugher filed this report on a small peak on the main crest of the White Knob Mountains, Custer County, Idaho. This 8909′ sagebrush mountain with 329′ prominence is located between Sheep Mountain 9649′, and Big Flat Top (Alder Knob) 9380′.  USGS Big Blind Canyon
"On 6/6/12 I was desperate to find a new peak in my local area. There had been a huge drop in temperature over the past two days from the 90's to 30's. Low cloud deck and strong winds almost made me turn around. Past Arco there was some blue sky, but quite a bit of fresh snow in the mountains.
Parked along Antelope Creek Road & Waddoups Rd. Motorcycled Waddoups Rd and soon got into some serious mud. Parked bike at 7000′ snowline, Right Fork Waddoups, 1.5 miles short of road-end, but within hiking range. Began a muddy slip-slide hike. Bawling cows on the range. Snow flurries. Met a couple of cow hands on horseback. Chins tucked into collars, a time for stoicism.
From Mountain Spring ascend off trail to Point 8782′. Descend W to 8580′ saddle, then up sage slope to objective 'Stani' 8909/329′, a Greek word meaning 'sheepfold'. No sign of prior ascent. Built cairn, left register. Slip-slide return same way on 1″ -3″ snowcover. Lucky to get even one peak today.
Mountain Range: White Knob Mountains
Longitude: -113.61019 Latitude: 43.77589
Share this post ...