Elevation: 9,283 ft
Prominence: 1,103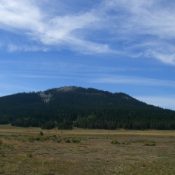 This peak is not in the book.
---
Peak 9283 is an impressive mountain that separates Green Basin from Paris Flat. Consequently, I call it Paris Green Peak. USGS Paris Peak
Northeast Ridge, 
Class
2
A
ccess
From US-89 in Paris, ID, drive west up Paris Canyon Road/FSR-421 heading toward the Paris Ice Cave. At 9.1 miles (about ¼ mile before the Paris Ice Cave), reach a signed road junction. STRAIGHT is FSR-408 which goes to the Paris Ice Cave and Paris Flat; RIGHT is FSR-421 which goes to Green Basin. The elevation at this road junction is 7,860 feet. Park in an open area on the left/south side of the road here. A campsite is next to the trees on the left/south side of the road here. Additional dispersed campsites can be found 100-200 yards farther west on FSR-408. This is cattle country so expect to see bovines near this junction, on the south slopes of Peak 8540, along FSR-408, and in Paris Flat.
This road junction provides the easiest access to Midnight Mountain (9,328 feet) via Green Basin Road/FSR-421. Note that the name of FSR-421 changes from Paris Canyon Road to Green Basin Road at this junction. FSR-421 is suitable for passenger cars all the way to its junction with FSR-408. Hike (or drive) northward up Green Basin Road/FSR-421 to a saddle at 8,220 feet. This is the connecting saddle between Peak 8540 and Peak 9283. If you climb the south face of Peak 8540 then descend its west ridge (as I did), you will have a more challenging route to this saddle. Since I did not drive (or hike) up FSR-421 to the saddle, I cannot be sure how rough the road gets, but it probably requires a 4WD vehicle.
The Climb
From the 8,220-foot saddle at the base of the northeast ridge, follow a footpath on the right/north side of a fence row (which is conveniently located on the ridge crest) for about ¼ mile to where the fence ends. From here, pick up an excellent old trail on the ridge crest and follow it until it is replaced by a decent game trail. Follow this game trail as it climbs directly (or just to the right/north of) the ridge crest. The game trail eventually disappears, but the ridge climb isn't too bad. You eventually reach the summit cap of Peak 9283, a mass of white boulders with trees and scrub mixed in. Thankfully, the boulders are mostly ground boulders so the scrambling is no worse than Class 2. The summit area is semi-open with easy ground boulders and easy short scrub with trees scattered here and there. The summit high point is a large boulder (amongst a number of boulders) with trees nearby. The high point has a small cairn and a large post stuck in a boulder crack nearby.
Southeast Face,
Class
3
Access
Same as for the northeast ridge. This route is part of a ridge traverse from Peak 8540 and a descent back down to the junction of FSR-408 and FSR-421.
The Descent
From the summit boulder, descend in a southeasterly direction, aiming directly at the ridge on the far side of Paris Flat. That visual will help you maintain a decent line in this thickly forested descent. The first several hundred feet of this descent is a Class 3 endeavor on moderately steep, large white boulders with areas of trees, blowdown, and veg mixed in. Try to stay away from the trees/blowdown/veg as you descend these boulders to make your life easier and safer. Eventually, you will lose the purely-open boulder areas and you must descend a mix of boulders/trees to finally reach easier terrain (a ground boulders/trees/veg mix). The boulder field descent is significant—600 to 650 feet of vertical drop from the summit—before you reach the aforementioned "easier terrain."
As you go lower, you lose the boulders and reach an open aspen forest with a lot of veg in it. This section goes fairly quickly and it will lead you down to a crossing underneath the power lines. After crossing the power lines, descend a final section of desert scrub to reach FSR-408 at the northeast end of Paris Flat. Hike northeast along FSR-408, passing the Paris Ice Cave (well-marked) in 0.6 miles and reaching the junction with FSR-421/Paris Canyon Road about 0.4 mile farther along the road where your vehicle awaits.
Mountain Range: Bear River Range
First Ascent Information:
Other First Ascent:

Northeast Ridge

Year:

2018

Season:

Summer

Party:

Livingston Douglas

Other First Ascent:

Southeast Face -Descent

Year:

2018

Season:

Summer

Party:

Livingston Douglas
Longitude: -111.58139 Latitude: 42.23609
Share this post ...