Elevation: 9,900 ft
Prominence: 320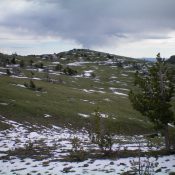 This peak is not in the book. Published November 2020
---
Peak 9900 is located on the Continental Divide about 1-1/2 miles west of Baldy Mountain in the Centennial Mountains. It sits atop the headwaters of Winslow Creek (MT), Curry Creek (MT), and Ching Creek (ID). Peak 9900 has a gentle south side but a wicked cliffed face on its northeast side that is readily visible from Baldy Mountain. It is most easily accessed from the Idaho side from the Little Creek drainage along Aldous Lake Road/FSR-027. USGS Winslow Creek
Access
From the north side of Kilgore, ID, drive north on [signed] Cottonwood Creek Road/FSR-026. At 3.9 miles, reach a [signed] junction with East Camas Creek Road. Continue straight on Cottonwood Creek Road. At 5.8 miles, reach the National Forest boundary. At 6.3 miles, reach a [signed] junction with FSR-027/Aldous Lake Road. Turn sharply right/southeast onto FSR-027 and drive 2.3 miles to an [unsigned] junction with [closed, gated] FSR-091. Park in a pullout along FSR-027 at this junction (6,960 feet).
Southeast Spur/South Ridge, Class 2
The Climb
This climb begins with a hike up [gated, closed] FSR-091. Please note that this old jeep road is shown correctly on the USGS topo map but is not correctly positioned on the Forest Service map (the road does NOT make a hairpin turn left/south and continue south, southwest, then northwest to Kay Creek). In actuality, the road continues to follow the Little Creek drainage northward as per the USGS topo map.
Hike up FSR-091 about ½ mile to an unsigned junction. Go right/northeast here onto a weaker 2-track road that follows Little Creek. This road soon crosses to the right/east side of Little Creek and soon ends in a dry, open meadow. From the road's end (as shown on the USGS topo map), head north-northeast on grassy, semi-open terrain with a ridge clearly visible to the right. That ridge is the southeast spur of the south ridge of Peak 9900 and your goal is to get up onto it.
After the grassy area ends, scramble northeast toward the ridge through a steepening, semi-open pine forest. Cross the CDT (a foot path) in a flattish area and continue northeast up a steep, forested face to reach the ridge crest. This bushwhack is on a gravel base with scattered blowdown and modest brush in a decent (not too dense) pine forest. You will cross lateral elk trails in this face climb up to the ridge crest.
Once on the southeast spur, follow it northwest. The ridge has lots of large treefall but does have some easier sections with an elk trail to boot. The ridge flattens out at about 8,300 feet and there are some minor ups and downs here. The base is pine duff (good) and, higher up, is embedded talus and forest (not fun). After reaching the end of the flat ridge area, scramble northwest over a boulder-strewn hump and drop to a minor saddle east of Point 8583. This saddle is where the southeast spur ends and the south ridge begins.
From this saddle, scramble north up a rocky face/ridge to a rocky bump with a steep east face, only to drop again to another saddle. From there, climb north up through easier scrub to a narrow ridge-crest hump (Point 8978). Continue to grind northward along the narrow ridge crest in a flat section with some minor ups and downs. The terrain here is a combination of ridge pines and rocky outcrops/boulders. The ridge finally comes up over a forested hump and drops to a final saddle at 8,940 feet. From this final saddle, the ridge wiggles a bit, first heading left-ish/northwest then right-ish/northeast. The northeast section of the ridge is much steeper than the ridge terrain encountered to this point. Worse yet, it is on loose scree/gravel. This is not fun.
Once up this STEEP section, you reach an area of semi-open pine forest (ridge trees mostly) and a narrow ridge to climb higher. The ridge wiggles yet again, heading left-ish/north then left-ish/northwest to reach open terrain. Head north then northeast from here in open terrain with scattered pines to reach the small summit area. The summit is a combination of short scrub and boulders. The summit high point is an area of scrub and broken rock. There is a double cairn about 10 vertical feet lower and to the west of the high point. There is a tall cairn to the south of the high point. Round-trip stats: 12.0 miles with 3,800 feet of elevation gain.
Mountain Range: Centennial Range
Longitude: -111.88989 Latitude: 44.56469
Share this post ...