Elevation: 8,033 ft
Prominence: 1,932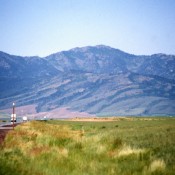 Climbing and access information for this peak is found on page 361. Please note on this page it states that "the highway crosses Fish Creek Divide just east of Soda Springs."  However, it should say, "the highway crosses Fish Creek Divide just east of Lava Hot Springs."  Sorry about that. Don't go all the way to Soda Springs…it's too far past the peak. Page revised October 2018.
---
Petticoat Peak (8,032 feet) is located northeast of Lava Hot Springs and is the highest point in the Fish Creek extent of the Portneuf Mountain Range. The peak is located on Bureau of Land Management (BLM)-managed public land and has 1,932 feet of prominence, dominating this small mountain range. The West Ridge/West Face and Southeast Ridge are rugged, choppy, and thickly forested with rocky outcrops. However, it is the North Ridge route that is the most accessible and easiest route to the summit. In addition to this update, use the link below to read Rick Baugher's trip report.
---
Access
North Ridge approach: From Lava Hot Springs, take Highway 30 east. Continue on 30 as the highway climbs Fish Creek Pass. Descend the pass, and at the base of the pass turn north (left) onto Lund Road (following signs to Bancroft). Follow Lund Road to Mill Creek Road, passing Rindlishbaker Canyon. Per my conversation with the BLM on 10/2018, Rindlishbaker Canyon access has been closed to the public by the private landowner.
Continue north on Lund Road until you reach Mill Creek Road. Here, turn west (left) and follow Mill Creek Road into the canyon, staying right at the fork you encounter. Take the Mill Creek Road all the way to the BLM boundary where you'll find parking spots and a kiosk at the trailhead.
Closed Access
In addition to Rindlishbaker Canyon access being closed, Livingston Douglas (2018) reports that the west and south approaches to the peak are also not accessible. He encountered private land/no trespassing signage trying to access the peak from Hadley Canyon Road. He also found impassible 8 to 10-foot deer fencing along, and well past, the base of the entire Southeast Ridge, as you would access it from Highway 30.
---
North Ridge Route, Class 2
Follow the trail out of the kiosk area (south) as it parallels the base of the north ridge. Towards the end of the canyon, the trail heads upwards to the ridge. But, you may have to bushwhack to the ridge. This canyon is well vegetated and can be really muddy in the early season. Thus, the trail may be overgrown and difficult to find at times. When you reach the top of the ridge, continue south to the obvious summit. Here, hopefully, you will still find the milk can summit register.
USGS Topo: Bancroft
Mountain Range: Portneuf Range
Longitude: -111.958163 Latitude: 42.655895
Photos: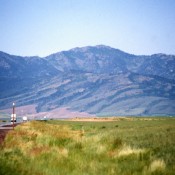 Share this post ...