Elevation: 5,261 ft
Prominence: 311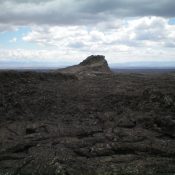 Pillar Butte is the source of the immense Wapi volcanic flow which is part of the Great Rift. It is a remote, rugged butte on the Snake River Plain that has an exciting, rocky finish. Yes, the summit is a pillar (see photo). You must cross an extensive, but easy, area of hardened lava flows to reach the summit ridge and the summit pinnacle. This climb covers 9.0 miles with only 500 feet of elevation gain round trip. You can significantly shorten the journey by driving all the way to Wapi Park, if you can make it. The desert roads in this area are generally not well maintained, so be prepared for some rough travel. USGS Pillar Butte
Access
From ID-39 at the south end of Aberdeen (at a road junction where ID-39 turns sharply left/south), drive south on ID-39 for 6.6 miles to a signed junction with 2400 South (North Pleasant Valley Road). Reset your odometer here and turn right/west onto 2400 South. At 8.5 miles, the pavement ends. At 10.6 miles, reach a signed junction with Winters Road. Reset your odometer here and turn right/north onto Winters Road. Winters Road becomes Crystal Ice Cave Road but is never signed for such.
At 3.6 miles, reach an unsigned road junction. Bear left here (the road soon merges with westbound Crystal Ice Cave Road). At 4.7 miles, cross a cattle guard; the road now becomes narrow and rough (lots of ruts and some embedded boulders). At 6.8 miles, reach a signed junction. Go straight here (left is a signed road for "Wapi Park 5 miles"; I'm not sure how rough that road is but Sheldon Blustein advises to avoid it). At 7.6 miles, reach an unsigned junction (5,016 feet on the USGS map); go left here. At 8.1 miles, reach another unsigned junction (a road comes in from the right/north here). Go straight. At 9.5 miles, reach another unsigned junction. Park here (4,944 on the USGS topo map).
North Ridge, Class 2+
The Climb
From the road junction, hike (or drive) left/west on an old 2-track road (narrow and overgrown) for about 1.5 miles to an unsigned "T" junction with Wapi Park Road. Go right/south onto Wapi Park Road and, in only 0.1 miles, reach a signed junction. Go straight on Wapi Park Road ("Wapi Park 1 Mile") and hike for just under 1.5 miles to reach the end of the road at Wapi Park, a small meadow with imposing piles/ridges of lava rock surrounding it. Wapi Park Road has some ground boulders but may be a feasible way to reach Wapi Park and avoid 3 miles of hiking, but since I did not hike the first 4 miles of the road, I cannot speak to its road condition early on. There is an old dispersed campsite in Wapi Park.
From Wapi Park, scramble southeast across lava flows and through some rocky lava ridges and gullies to reach an open area of lava flows and a clear view of the summit ridge of Pillar Butte. Once across the easy, flat lava flows, climb up the rocky boulders/talus/scree on the west face to reach the rocky north ridge. Once on the ridge, scramble right/south through tedious, choppy blocks of lava and lava talus/scree to reach the summit pillar. Find an easy ramp/chute on the left/east side of the pillar to reach the top. All other access is a Class 5 endeavor on dubious lava rock. The exposure on the sides of the pillar is serious. The summit of Pillar Butte has no cairn but has a USGS benchmark.
West Face, Class 2
The Descent
From the summit, descend the rocky west/northwest face to easy lava flows below to avoid the choppy, tedious north ridge. Scramble northwest across the open lava flows with numerous (but small) ups and downs. It is generally best to stick to the minor ridges and avoid the brushier gullies. Wapi Park is hidden until you cross the final lava ridge. Maintaining a steady northwest line is critical. Unlike what the USGS map shows, Wapi Park is rather small and it is important to find the road's end to return to your parked vehicle.
Mountain Range: Snake River Plain
Longitude: -113.22117 Latitude: 42.88681
Share this post ...