Elevation: 7,860 ft
Prominence: 120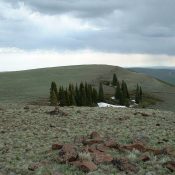 This point is not in the book. Dan Robbins, Ken Jones and Livingston Douglas provided the beta and photos for this page. Updated November 2020 
---
Point 7860 is the Twin Falls County High Point. It is part of a ridge that spills from Nevada's Jarbidge Mountains across the border into Idaho. Since it is accessed from the Snake River Plain and since the Jarbidge Mountains are not an Idaho Range, I have included this point with the Snake River Plain summits. USGS Curtis Draw
This high point is located on private property. Although we have set out direction on this page do not trespass to bag this peak. GET PERMISSION from the landowner. The Twin Falls BLM office may be able to put you into contact with the landowner.
Ken Jones provided the following route information:
Date of Climb: July 12, 2000
Take US-93 south from Twin Falls. At virtual milepost 18.2, turn west (then south) into Rogerson, ID. At 0.7 miles, turn right onto the main road west (this point may also be reached via the southern end of the Rogerson loop from US-93). Follow this main paved road (labeled Three Creek Road in Delorme) generally west and south. At 8.3 miles, you'll drive across the top of the Salmon Falls Dam. At 16.9 miles, you'll pass a dirt turnoff on your right signed to Cedar Creek Reservoir. At 26.3 miles, you'll find a dirt road on the left, with a small sign indicating "Wilson Creek, Lime Creek" just before the paved road drops down to the Devil Creek Ranch. Turn left toward Wilson Creek and reset your odometer.
You'll stay on the main road past a number of less-major roads and tracks. Skip the forks left at 0.2 miles and 0.9 miles. Cross a cattle guard on the fence line at 2.2 miles. Keep right on the main road at 2.9 miles and 4.4 miles, and cross another fence line and cattle guard at 4.9 miles. Skip the left fork at 5.5 miles, cross another fence/cattle guard at 5.6 miles, and continue straight (bending left) at 5.7 miles, passing a small pond not shown on the map (may be dry at some times of year). Another fence/cattle guard is crossed at 6.4 miles; keep left at 6.7 miles. At 7.7 miles, turn off the main road to the right on the unsigned road to Guerry Corral, which you will reach/pass at 8.4 miles, immediately crossing a small creek.
Several of the roads shown on the quad in this area don't appear to exist any more. Just past the corral keep right past an unmapped left fork, and pass through the washout from a spring. This is the first point at which you might have doubts about continuing to drive in a passenger sedan. There were two tracks evident. The uphill one was less muddy but went through a foot or so of water. The alternate road on the map, turning right opposite the corral, no longer appears to exist on the ground. At a 4-way intersection at 8.8 miles, keep left on the most obvious road. This climbs gently for 0.8 to 0.9 more miles to the saddle between the two possibilities for the Twin Falls County High Point. Park here.
Each of the two bumps is a short walk from the road. The Southwest Summit has a track almost to the summit which is passable for high-clearance vehicles. The Northeast Summit can be driven with a 4WD vehicle. I saw vehicle tracks in the vicinity of the summit. I used my clinometer to sight in both directions and I believe that the Northeast Summit is higher by 3 or 4 feet. Hiking is insignificant (~5 to 10 minutes and <100 feet of elevation gain per bump from the saddle).
Mountain Range: Snake River Plain
Longitude: -115.03259 Latitude: 42.00019
Share this post ...