Elevation: 8,177 ft
Prominence: 877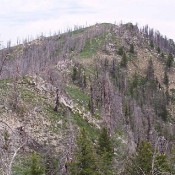 Climbing and access information for this peak is on Page 149 of the book. Anna Gorin provided the 2023 update found below which (1) demonstrates the Forest Service is once again maintaining the access trail and (2) adds a new route—the peak's east ridge. Updated May 2023
---
The area around Rattlesnake Peak has been devastated by forest fires. The Tipton Flats Campground described in the book no longer exists. The good news is that the country and views are now wide open. USGS Prairie
Access
Devils Creek Trail, FST-128. [(C)(1.1)(a) Page 149]
---
May 2023 Update by Anna Gorin
East Ridge, Class 2
"As of Memorial Day 2023, FS 217 to Tipton Flat is in fair condition: some large potholes and eroded sections, but probably passable in a sedan with careful driving. The campground itself still has no facilities, but plenty of open space for primitive camping. Devils Creek Trail begins just north of the campground off FS 219, marked with a trailhead sign but no other information, and is in phenomenal shape apart from some runoff erosion between mile 1 and 2. In a high snow year, I encountered some steep snowfields over the trail around mile 5 (7300′) but otherwise had no problem easily following the trail to the saddle between Rattlesnake and Peak 8142.
From the saddle, I walked just over a mile southwest on massive snow drifts with minimal postholing to the true summit, marked with a tiny tree, rusty register, and USGS marker erroneously reading "Lava". Astounding views of the neighboring Lava Mountain ridge, distant Sawtooths, South Fork, and Danskin range. Not wanting to deal with the snow again and hoping to cut off some distance, I descended the south ridge directly from the summit, which becomes incredibly overgrown with nearly impassable brush around 7200′ and I would not recommend. Perhaps the ridge leading to Point 7977 as described in the book is less brushy, but the whole area is growing back: for better and for worse. Beautiful mountain!"
---
Mountain Range: Boise Mountains
Longitude: -115.57989 Latitude: 43.62309
Share this post ...