Elevation: 9,167 ft
Prominence: 3,642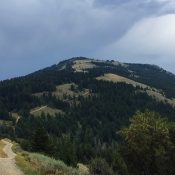 This peak is not in the book.
---
Sedgwick Peak gets no respect in Idaho's mountain universe. Despite it's rugged nature and it's expansive forest cover it was overlooked by Teddy Roosevelt and Gifford Pinchot when they made numerous last minute designations of  national forests under the president's soon to expire authority. As a result, the portion of the Portneuf Range south of Lava Hot Springs, Idaho ended up as State of Idaho and private land.
Sedgwick Peak is a big towering peak with a massive summit and 3,642 feet of prominence. The southern end of the summit plateau is the home of half a dozen communication facilties. The views from tue top are vast and speak volumes about the interesting topography south of Pocatello.
Because much of the area surrounding this peak is private property access is an issue. The only access I know of starts in Lava Hoy Springs. From Main Street and Center Streets in Lava Hot Springs drive west on Main to 4th Ave West and turn left (south). Follow this paved to the Lava Hot Springs Cemetary which will be on your left. Turn left on the dirt road just before the Cemetery. You are now on a legitimate 4WD road that leads to Sedgwick's summit in 9.5 miles. In roughly two miles you will come to subdivision of sorts which includes houses, trailers and a good section of road. This road is named the Thunder Mountain road. It is a private road that leads from the valley to the development. (Clearly, the Thunder Mountain Road would be the best way to reach this spot but there is no public access at its bottom.) Fortunately, there is an easement to get you your next turn, the signed Wyoming Trail road. Turn left and continue on this narrow, steep, winding road to the summit.
As far as climbing Sedgwick, due to access restrictions, the road is the route to follow. You can start at the Cemetery and make it a massive 19.0 mile walk or mountain bike ride. If you don't have a 4WD with very good tires that is your only option. Otherwise, you can drive all the way or part way. I recommend driving to the saddel between Sedgwick and Bald Mountain and hiking the last two miles.Class 1.e
Two miles before Sedgwick's summit the road passes past the west side of Baldy Peak at a point roughly 0.25 miles and 200 feet below the top.
Mountain Range: Portneuf Range
Longitude: -111.92376 Latitude: 42.51534
Share this post ...