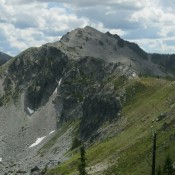 This peak is discussed on page 86. Dan Saxton's important update on this peak will make reaching its summit more likely bit is still going to be a long day. Thanks Dan.
---
The guidebook says Shale Mountain is best approached from the south, but I believe the northern approach is preferred. You start from the end of the Schley Mountain Road (#7734) in Montana, a high trailhead (over 6,000') and have an unmaintained path to follow most of the way. It took me 8-9 hrs round trip.
From the Schley Mountain TH at the end of the road, follow the State Line Trail #738 to the MT/ID state line. About 50 yards before you reach the sign marking the MT/ID border, look left to see the remnants of an old road forking off to the east (unsigned). That is the continuation of the State Line Trail south. Don't be fazed by its slightly overgrown nature – follow the track about 1/4 mile to where it clearly becomes a single trail. If in doubt, seek to gain the north ridge of Peak 6,927.
The path reaches the ridge, but then soon goes onto the west side (the map is incorrect here), climbing up until it reaches a meadow just south of Peak 6,927 – and abruptly vanishes. I could not find the trail from here both ways. You will have to go cross-country for the next 3/4 mi or so. Turn east and drop off into the little valley between Peak 6,927 and Peak 6,989 – try to follow the "trail" as it is shown on the USGS map, which means sidehilling a bit below the next ridge on its west side. Trail tread returns just north of "T40N" on the topo map, and from there it is fairly easy to follow.
Follow the trail to picturesque Leo Lake, and then up the valley behind (the track grows faint) to another tarn across the state line. Scramble west up to the ridgecrest and follow it south to the north summit of Shale Mountain – some rock hopping required but nothing technical.
From the north summit, you'll see the south summit is higher – follow the ridge south to where it becomes too narrow, drop onto the east face, and then traverse to a steep Class 3 grass/rock wall which propels you up to the apex of one of the Great Burn's most intrepid and spectacular peaks.
Mountain Range: Bitteroot Mountains
Longitude: -114.78879 Latitude: 46.71409
Share this post ...