Elevation: 11,276 ft
Prominence: 456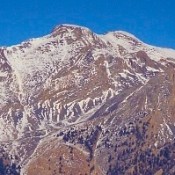 Climbing an access information for this peak is found on page 287.
---
Sheephead Peak is located northwest of Invisible Mountain. It is one of the least climbed Idaho 11ers. Nevertheless, it is an impressive peak and well worth consideration.
Access
Unless you decided to climb the peak from Invisible Mountain you will access the peak from Swauger Gulch. The road up Swaugher Gulch is accessed from the Lower Cedar Creek Road [(B)(13) page 293]. John Platt provided the following access update:
Access was straightforward. Follow roads shown on the map, although the satellite showed that the two roads approaching the TH actually connect, and we did that to do a loop. Not sure which side of the canyon was better (worse?). High clearance and good tires- standard LRR equipment. No 4WD needed.
Swaugher Gulch Route, Class 2
Rick Baugher climbed the peak from the via Swauger Canyon in Big Lost River Valley starting at 6,900 feet. He hike up the canyon to the crest at 10,700 feet. From the crest he hiked northwest to the summit. Use the link below to read Rick's trip report.
John Platt, John Fadgen and Michael Pelton climbed the peak in April of 2018 via Swaugher Canyon and also traversed over to Invisible Mountain. John's trip report is linked below. John Platt provided the following:
You start up a ~400' headwall. We took the right for better footing, and that led us into a mahogany morass. We descended the looker's left, but it's so loose (good descending) it might be horrible to climb. At any rate, when you get to the meadow (old lake bed) there is an old camp site on the left side, which led us to a semi-cleared path through the Disenchanted Forest, which included 2 or 3 cairns. Above that, it opens up with the preferred route on lookers left.  Then, all snow. On the descent, we all followed the outlet of the old lake, which leads you to the loose-talus descent route described above.
Sheephead/Invisible Traverse, Class 2
George Reinier, John Roach and Pat McGrane traversed to this peak from Invisible Mountain, Check out this link for Pat's trip report and a few photos.
John Platt an John Fadgen also made this traverse in April 2018 and reported it as a straight forward ridge walk.
Mountain Range: Lost River Range
Longitude: -113.53049 Latitude: 43.97569
Share this post ...