Elevation: 11,212 ft
Prominence: 552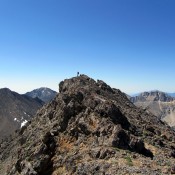 Climbing and access information for this peak is on Pages 309-310 of the book.
---
Shoshone John Peak is located on the main Lemhi Range Crest south of Diamond Peak. It is positioned between Big Boy Peak and Black and White Peak. Most ascents have used the Bunting Canyon approach on the peak's West Side. This side looks daunting when viewed from below. USGS Fallert Springs
Bunting Canyon Route, Class 2
Access the Bunting Canyon Route from Badger Creek on the Little Lost River side of the the Lemhi Range. Larry Prescott followed Badger Creek Road until he reached a rickety bridge which he decided not to drive across. Despite finding deep snow and not having snowshoes, Larry and his party pressed ahead. Larry writes: "We passed by what, I believe, Dave Pahlas referred to as the 'Pearly Gates.' An entrance that led to the west slopes of Big Boy Peak was guarded by massive walls. Beyond this opening, a large gaping hole appeared in the mountain side. A thick limestone slab curved over the entrance into the mountain. We were relieved to leave the canyon floor and begin the hike up the drainage to Shoshone John. Here the snow was hard enough to support our weight. The initial slope was gentle and easy going."
Larry continues: "Leaving the canyon behind, Ryan begins the ascent. Soon after, we put on crampons. Then, a bit later, we traded the poles for an axe. At this point, the hard snow was perfect for crampons. The spikes bit solidly with each step with a reassuring thwack. Anyone craving a great climb in the Lemhis will find the hard-packed snow a welcome surface rather than the endless scree in this approach. Just make sure you take snowshoes for the next few weeks. We headed for the V-shaped gullies just under the ridge. In the spindrift photos above, the gullies are just left (north) of center. We opted for the gully on the right (south) and pushed towards the ridge top. This last gully was the steepest part of the ascent. Once on top, the views were stunning."
Use the link below to read Larry's trip report and view more of his amazing photos.
Here is a link to an additional trip report with excellent photos and a great discussion: John Fadgen
Mountain Range: Lemhi Range
Longitude: -113.072763 Latitude: 44.102546
Photos: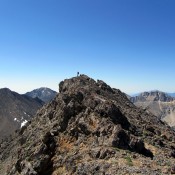 Share this post ...