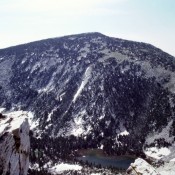 This section of the book and the website cover the area south of the Snake River. This large area is often ignored by climbers and hikers, at least in comparison to the portion of the state north of the Snake River. The terrain south of the Snake is much more diverse than the rest of the Idaho with mountains formed by uplifted batholiths and fault blocking.
The southwest corner of Idaho contains some of the state's most remote and difficult terrain in the Owyhee Mountains and River country. The central part of this area has ten thousand foot plus Cache Peak. The southeastern corner of Idaho is full of delightful summits. In between these three areas hundreds of summits to challenge your route finding skills and endurance.
Southern Idaho Issues
Private property is much more prevelant in Southern Idaho and care must be taken to avoid trespassing. BLM Land Status maps are a big help as is discussing access issues with the BLM and Forest Sercice offices.
Phosphate Mining
Phosphate mining is a big industry in southeast Idaho. The mining can impact access routes and rip up the sides of mountains. The Idaho Depart of Environmental Quality website provides good information on mine locations and status.
Mountain Range: Albion Range
Share this post ...