Elevation: 6,740 ft
Prominence: 1,226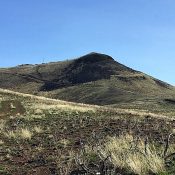 This peak is not in the book.
---
One of eleven Idaho peaks using the name squaw, this Squaw Butte is 6,740 feet tall and sits east of US-95. Although it is impossible to tell when you traverse the route to the summit, part of this mountain is located on private property. In April 2017 there were no "Private Property-No Trespassing" signs, or orange paint markings, notifying you the property is private and thus, cutting off access.
It is unknown how long the landowner will allow public access, but we all owe a "Thank You" to the owner for allowing access to this mountain and its massive views of Idaho, Oregon, and Nevada!
Remember, to respect all private property. If the property is posted, keep out. If public access is allowed, treat the land with respect.
Access
Squaw Butte is accessed from US-95. Access begins at milepost 7 on a good gravel road, which runs southeast from the highway toward the mountains. The road is unsigned. Follow the road southeast past a reservoir fed by Little McBride Creek and then into the McBride Creek drainage below Flattop Butte. The road enters the McBride Creek Canyon at this point. Follow the road up the canyon roughly 2 miles to an unsigned road fork. Take the left fork, which quickly crosses the creek. (The right fork leaves the creek bottom at this point, so if you start climbing you should know you missed the turn.) There is a nice flat parking area about 100 yards after the creek crossing.
The Climb (Class 1-2)
From the fork, a 4WD road leads upward and nearly to the summit. The road runs north to a gate in a fence line in about 1 mile. Pass through the gate and follow the road east up to a second gate in 0.8 miles. Then, the road turns northeast and continues upward, cutting across the peak's west face to another fence line in 0.4 miles. This fence line is clearly marked "Private Property–No Trespassing." Stay on the south side of this fence and climb up to the summit ridge toward the visible solar panels. Turn south and follow the easy summit ridge to the high point.
In addition to the Owyhees, the summit view takes in the Boise Mountains, West Mountains in Idaho, the Wallowas, Elkhorns, Steens and Pueblos in Oregon as well as several Nevada mountain ranges.
My GPS reported 2.4 miles with 1,434 feet of elevation gain.
USGS Topo: Piute Butte
Mountain Range: Owyhee Mountains
Longitude: -116.8849 Latitude: 43.88489
Share this post ...