Elevation: 5,968 ft
Prominence: 1,716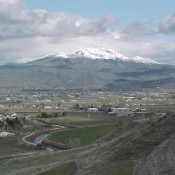 This peak is not in the book. The name of this peak was changed from Squaw Butte to Sehewoki'I Newenee'an Katete in 2022. Reportedly, the most literal interpretation of the new name would be "People of the Willows Standing in a Row Butte." Updated December 2022
---
Sehewoki'I Newenee'an Katete is located north of Emmett, ID at the tail end of the West Mountains. The butte is a large, complex mountain with many faces and high points. Although commonly referred to as a single peak, this massif has 3 points with over 300 feet of prominence separated by a distance of nearly 2 miles. The butte is better described as a small mountain range than a single peak. The 3 high points from south to north are Peak 5894, Sehewoki'I Newenee'an Katete and Peak 5626. Each of these peaks is separated by a significant saddle. USGS Squaw Butte
Most people incorrectly believe that the fire lookout is the highest point of Sehewoki'I Newenee'an Katete. The butte has 3 points with more than 300 feet of prominence each. The fire lookout is not one of them. It has an elevation of only 5,874 feet. The true summit is located well to the north of the lookout and Peak 5894. While the actual high point of Sehewoki'I Newenee'an Katete is only 2 feet higher than Peak 5894, if you want to claim an ascent of Squaw Butte then you must go the extra mile.
Access
A maintained road leads to the fire lookout on the south end of Peak 5894. This road is generally passable to 2WD vehicles to the saddle below the lookout. From the saddle, a rougher road leads north to Point 5870 and a large brick building. Beyond this point, the road is only advised for 4WD vehicles. This rough, steep road follows the ridge north past the slopes of Peak 5894, Sehewoki'I Newenee'an Kate and Peak . This section of road can be nasty when wet but does make a good path for hikers.
To reach the peak from Emmett, leave ID-16 at its junction with Washington Avenue North. Follow Washington Avenue (designated as ID-52) north through town. North of town, ID-52 swings east. Continue straight at this point onto Van Duesen Road. Follow Van Duesen Road north until the pavement ends. Turn right onto Butte Road and follow it for a short distance until you see a cattle guard on your left. Turn left, cross the cattle guard and follow the maintained dirt road to the saddle below the lookout. The road is closed in Winter.
East Slopes Route (Class 2+)
The easiest way to climb
Sehewoki'I Newenee'an Katete is to follow the road described above to the peaks East Slopes and climb directly up the grass- and brush-covered slope to the summit ridge, aiming for a point just south of center. The summit ridge is a long, narrow rocky rib. You can find a Class 2 line up the last 20 feet or do a short scramble to reach the high point. The crux of this route is crossing a barbed wire fence midway up the slope. You can also reach the summit by following the ridgeline north from Peak 5894. There are a few brushy spots to navigate but this is a more direct route.
Mountain Range: West Mountains
Longitude: -116.41191 Latitude: 44.0327
Share this post ...