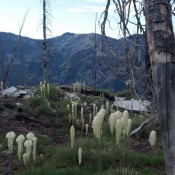 This peak is found on pages 73 and 74.
---
Stripe Mountain is the highest point in the Clearwater Mountains and a P2K peak. There is no short way to approach this remote summit. The following trip report is by Ken Jones.
Drive:
Trailhead is at Salmon Base Camp, a former campground that has burned and is no longer signed or active. There is still an outhouse, and parking for the trailhead. It's about halfway along the Magruder Corridor between Elk City ID and Darby MT. I drove in from the west and exited to the east. If you're looking for the better road, come from Montana. Use your map and navigation skills to identify the trailhead.
Hike:
I backpacked in on the Shoup-Elk City Trail, #019. See the attached GPS track for my route. As far as I can tell, a good deal of the area burned in 2000 (according to reports) and more burned in 2012 (based on my observations). The trail tread is good and can be followed, and there are some signs (including one at the trailhead) but others have been burned. You'll have to go over and/or around some downed timber, including some that will leave charcoal on your clothes. I camped at Swet Lake Pond. This was a nice spot, and did not show signs of recent burns. The mosquitoes were atrocious, however. In the morning, I continued on trail to the saddle just below Waugh Mountain.
Off Trail:
I followed the ridge, or south of the ridge as seemed appropriate, all the way to the peak. This was somewhat rougher than I expected, and I took a more southerly route on my return (see GPS track). Both required some side hill travel, but nothing over class 2.
Total round trip distance was 18.0 miles with 4,461 feet of gain.
Thanks also to Peakbagger.com for its contribution to this page. Check out the link below for Peakbagger's page for this peak.
Mountain Range: Southern Clearwater Peaks
Longitude: -114.77429 Latitude: 45.51349
Share this post ...