Elevation: 5,385 ft
Prominence: 335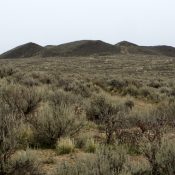 Table Legs Butte is located approximately 3 miles southeast of Atomic City, Idaho on public land managed by the Bureau of Land Management (BLM). This butte and several other buttes are visible from US-26. The butte's summit block is actually made up of a number of small "summits," which is probably why it is named Table Legs Butte, as it appears to be an upside table with several "legs" pointed upward. USGS Atomic City
As shown at ListsOfJohn (link below), the Southeast Leg is the true summit, though even with a GPS, the small difference in height between a couple of the butte's legs will make you question whether you are on the high point. However, it is a quick, fun scramble to explore and climb on top of each of the prominent table legs.
Southwest Approach
The best access to the butte is from Tabor Road, which begins at the south end of Atomic City. Travel on Tabor Road for approximately 1.5 miles, reaching a slight, but noticeable, rise in the road. Just past this rise, at approximately 1.73 miles, an unmarked road heads east. This road is not shown as an allowed travel way on the BLM map (reviewed on the Interactive Trail Map on 1/22/17). However, the road is clearly and routinely traveled all the way to, as well as among, the butte's legs, most likely by vehicles, part of the way, and motorcycles and all terrain vehicles.
Regardless, it is a relatively short and gradual 1.5-mile hike from Tabor Road to the summit block. However, in the Summer, it could be quite hot and there is no water available.
The views from the summit(s) include the surrounding buttes and expansive lava flows patterns, as well as the Lemhi, Eastern Lost River and Pioneer Mountain Ranges.
Mountain Range: Snake River Plain
Longitude: -112.77309 Latitude: 43.41489
Share this post ...