Elevation: 9,960 ft
Prominence: 2,380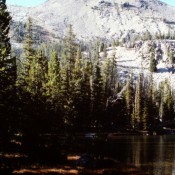 Climbing and access information for this peak is found on page 134. Ken Jones' August 2011 trip report amd GPS track are added below. Farther down the page is a brief discussion of the peak's history as a fire lookout. Updated June 2019
---
Taylor Mountain is a big hump of peak with a broad summit plateau and over two thousand feet of prominence. The ruins of a fire lookout.
Ken Jones followed the route in the book. His trip report is as follows:
I drove to Morgan Creek Summit on an excellent (35 MPH) gravel road and drove Spur 129 to its end at the trailhead, which is before the mapped end of the road. I followed trail 251 to the Hat Creek Lakes (considerable up-and-down) and picked up the unmapped/unmarked trail just north of lake 8805 that leads to the upper lake 8923. (Thanks to Tom Lopez and his book "Idaho: A climbing Guide" for telling me this trail was there. It is used by horse packers, and logs are cut out as necessary.)
From the upper lake I headed to the saddle south of the summit and picked up the old lookout trail to the top. This old trail is sketchy in places, but makes the talus hopping much easier than it would otherwise be. You can reach the south saddle staying in the vegetated area – again, much easier than the talus.
Bing Young provided the following history discussion:
At 9960 feet, Taylor Mountain was the highest of all the points to be a lookout point on the Forest.  . . .
Because of its height and long range visibility, Taylor was first indicated as a lookout on the 1918 map and was considered a primary lookout in the 1920's. It rapidly lost importance in the 1930's for a variety of reasons. First of all, more effective specialty lookouts were being built to guard specific drainages (Sheephorn, Red Rock, and Duck Creek). In addition, Taylor Mountain is highly glaciated  and it was a long, hard way down to a spring for water, to say nothing of bringing in supplies on horseback.
By the 1930's, Taylor Mountain was used as an emergency point only, and it has long since been abandoned, though the very old building is still in place on top.
Taylor Mountain is at the head of Hat Iron, and Meyer Creeks, and along with Sheephorn, is the most southerly of the Salmon Lookouts. Near Taylor Mountain are the Hat Creek Lakes, the Hat Creek Road, the Iron Lake Road, famous for their scenic beauty. . . .—Salmon National Forest Fire Lookouts by Bing Young 1982, pages 40-41.
Mountain Range: Eastern Salmon River Mountains
Longitude: -114.2161 Latitude: 44.885
Share this post ...