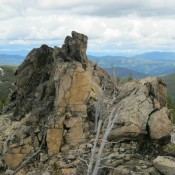 This Granite Peak, one of 12 Idaho mountains named either Granite Peak or Granite Mountain, is discussed on page 68 in the book. The peak sits in an area where the Idaho/Montana border forms a "U" shaped curve, running south, then east and then north. There is a lot of granite based country to explore in this stretch of the Bitterroot Moumtains. This is a major update to the book entry. Thanks to Dan Saxton for this important update.
---
Granite Peak is listed in the book as 7,551' – but note that the highest contour is 7,560′ and the Lists of John website list the elevation at 7580,
The guidebook rating is WRONG in its Class 2 rating. This peak has a hard Class 4 summit block.
The best way to approach this peak is from the Crooked Fork Road (#595) where it crosses the Crooked Fork. Follow the trail (#35) up the creek to the saddle SE of Granite and then go through open woods towards the peak. As you get closer, you will find that the top is a serrated crest of pinnacles. The chief one is about 40 feet high, and requires steep Class 3 scrambling to the base of the final block, where an extremely exposed Class 4 "pull-up" ledge move is required up the last 10 feet to attain the peak (I could not make the move). So Granite is a difficult peak to summit.
Mountain Range: Bitteroot Mountains
Longitude: -114.71219 Latitude: 46.71629
Share this post ...