Elevation: 9,520 ft
Prominence: 60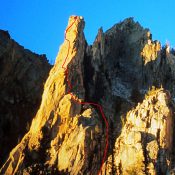 This formation is not in the book.
---
The Tusk is an enticing spire, located just south of the Elephant's Perch. I climbed it twice back in the mid-1970's. I think these photo were taken on my second climb of it, in 1975 with Harry Bowron & Chris Puchner. I had climbed it a few years earlier with Harry Bowron.
Length & difficulty. I don't remember how many leads. The Mountain Project website states the route is three pitches. That does not sound right.   I think it is at least four to the top of The Tusk & then rather than rappel, we kept climbing along the up & down ridgeline to the highpoint, or near the highpoint, where we could then mostly walk off the mountain. We called it 5.8, but the second time we did it, I was having a very good day and led a more direct variation that our climbing star Harry could barely follow and Chris couldn't follow. YDS 5.9?   Who knows?
Mountain Range: Sawtooth Range
Share this post ...