For decades, Idaho climbers have pored over topo maps, imagining what the peaks beyond Ship Island Lake in the Bighorn Crags would be like to climb. The routes, tantalizingly hard to get to, would reach up long and steep aretes, faces and cracks towards summits that didn't have names, had never been touched by climbers (unless the Sheepeater/Shoshone peoples liked steep rock climbing), and might be made of solid Idaho Batholith granite, but more likely, Idaho choss.
Where else in the lower 48 could an explorer traverse entirely new ground, having to come up with names for peaks and features that if they were anywhere else would have dozens, if not hundreds, of grade III, IV and V climbs? Tom Lopez's enticing description in his excellent Idaho: A Climbing Guide, required reading for repeating any journey to the Crags has this to say. "Of interest to rock climbers is a tangled collection of spires, faces, and cliffs at the west end of Ship Island Lake called the Litner Group. Because it is more than 10 miles from the nearest trailhead, little climbing activity has taken place in the Litner Group but, rest assured, the area has high potential for serious rock climbers." Tom mentions a Litner Peak, but which one is that? No one is sure. The only recorded climbing our group could unearth was Lincoln Hales' and Pete Schoening's 1955 Seattle mountaineers article about climbing in the Crags.
So why the mystery? Why no history of climbing above Ship Island Creek? The creek descends to the Middle Fork of the Salmon River, packed with river runners every summer. Their last day on the river thousands pass by Ship Island Creek with little thought to what lies upstream.
It's all about logistics.
First, the trailhead, 3 hours from Challis, is itself not the easiest place to get to. Then a hike through the Frank Church Wilderness 12 miles over two passes to Ship Island Lake, then bushwhack another 1.5 miles to the west end of the lake. Staying a few days? Planning to climb anything technical? Carry a 60-80 pound pack. That discourages most. Plus the climbing season is short. Expect much of the trail to be snow covered until July, then enjoy an Alaska quality bug season until early August. Snow shuts down rock climbing in late September, perhaps October. And the only commercial packer allowed in that part of the Frank is booked years ahead with big game hunters.
What about ascending the creek from the Middle Fork via a river trip? The bottom of the drainage is a thorn filled slot canyon. Any way around that canyon involves climbing up several thousand feet of very steep ground, then rapping back into the creek drainage, with those 70 pound packs. Not fun.
The secret? Have a friend with a pack string of horses and mules, who thinks hauling 6 climbers' gear into and out from the lake is fun. My long time dream came true over a beer in a McCall bar when Jeff said sure, he'd love to take his pack string into the Crags for a week, hauling other peoples' stuff. I organized a group of climbers to join me, Brady Johnston, Ian Cavanaugh, Max Bechdel, Carolyn Pace, Cody Goldberg and Jeff hauled us into Ship Island Lake.
So is the climbing worth the trouble? Emphatically yes. During our late 2020 August/early September week our group of six climbed seven grade III and grade IV routes totaling 40 pitches of mostly great granite, with only the occasional chossy offwidth. Most of those 40 pitches were of full rope length, 50 to 65 meters each. We summited just three routes, the others ending on lines that could have continued into grade IV climbs. Our pitches ranged from 5.6 to 5.12, the easiest routes touching 5.9. Yet with 5 days of great weather we barely touched the area's potential.
Our first day, we aimed for the obvious face up the "Rabbit Ears" feature right above camp. This feature is about halfway up what the 1955 party may have called Litner Peak, the highest point in the canyon. Brady Johnson and Jim Pace led PaceSetter, grade III 5.9.
---
Pace Setter, Grade III, Class 5.9 by Brady Johnston
Gear: single set of cams to #3, Half set of stoppers
P1 5.7   Climb good rock to the left of the dike to a small tree at the dike.
P2 5.8   Climb dike to large ledge move left to large tree and better rock anchor and belay.
P1 and P2 may be combined, 60m
P3 5.9 Pull the boulder move off the ledge then 5.9 thru the roof.
P4 5.9 boulder finger crack to belay at the granddaddy tree and ledge
P3 and P4 may be combined, 60m
P5 5.8 classic chimney/ dihedral to ledge
P6 5.6 ramble to up to broken chimney
P5 and P6 may be combined, 60m
P7 5.7 Climb blocky gully to the lower col
P8 5.8 Classic hand crack on the east side of tower to upper col 40m
P9 5.9 Classic summit block hands and fingers 20m
P8 and P9 may be combined, 60m
Summit does not have gear.   There is fixed gear .5m below the summit and a rappel station 2m below the summit.
Descent:  Down climb to fixed anchor 2m below summit.  A 60m rappel down to a large tree in the east gully.  4 more 60m rappels off large trees will bring you to the base. On the descent we came across evidence of past climbers; a cam and a piton used for rappels, apparently on a thwarted attempt at Litner Peak.
---
Jeff Halligan Memorial, Grade III, 5.10
Ian Cavanaugh and Max Bechdel enjoyed the Jeff Halligan Memorial Route (JHMR), a grade III 5.10, located 30 meters to climber's left of PaceSetter. Both these routes are of high quality.
---
That same day Cody Goldberg and Carolyn Pace tackled the Grade IV 5.10+ Launch Over it, ending on a formation we called the BFR (Big Fancy? Rocket) after Elon Musk's Mars ambitions. The BFR lies halfway up the magnificent Mission to Mars massif, just northwest of the Rabbit Ears. Another 250 vertical meters of climbing above the BFR await future attempts. The top two pitches of their climb have it all; great crack lines, exposure, views.
---
Launch Over It, Grade IV, 5.10+ by Cody Goldberg
Gear: doubles from micro to BD 6, offset micronuts helpful. Several Long Slings
P1: Many options to begin exist, ours is as follows: just around the left corner of the broken base, climb a dirty, left-leaning slot up onto a nice ledge, gear anchor. 5.9 20m
P2: Ascend a finger crack on the prominent face, eventually switching cracks, ending with 30 feet of perfect hands and a long choss walk to a dead tree in a slot. 5.9 60m
P3: Navigate a long walk atop low-angle rock, ending around the right side of the main buttress of the BFR formation. 4th and low 5th class 45m
P4: Around the right side of the buttress, climb fists to stacks to squeeze to stand atop pillar standing against the face of BFR. Belay in a half inch crack. 5.10 30m.
P5: Fire up a perfect finger crack until switching left seems sensible. Continue into perfect BD 5s for 30 feet and step right around the horn along the arete and belay with small cams. 5.9+ 25m. P4 and P5 can be combined for a marvelous 55m pitch from fingers to knees.
P6: The business. Step back around the corner to the face. Climb incipient cracks to the notch at the spire's summit. 5.10+ PG-13 30m.
Work your way around the gendarme and continue up the MTM massif or rappel from a wedged block 45m and downclimb and scramble to the base.
---
A rainy day allowed the group to explore down the canyon, as far as the first significant saddle into the drainage to the north of Ship Island Creek. Jaw dropping views south across the canyon to the Biggy Smalls Wall (dead vertical, 300 meters, kinda like a Yosemite big wall but not so big) made all of us realize just how extensive the climbing here could be. A dozen or so major summits line both sides of the valley, each with numerous route possibilities. But looks are deceiving. The splitter hand jam in the spotting scope turns out to be a splitter off width. The off width, a chimney. Scaling took practice.
---
Geoffrey Chosser  Grade IV, 5.10+ by Cody Goldberg
Gear: doubles to BD 6, single set of nuts
P1: Climb broken terrain to a left-facing dihedral. Push through bushes and lichen to belay on a huge ledge. 5.10- PG-13 60m.
P2: Walk left and up to the bottom of the gigantic right-facing dihedral crack. Steel yourself. Pull perfect hands through the roof bulge and power up into the offwidth. Surmount several chocked boulders and a final bulge to a low-angled slab as the crack stretches overhead. 5.10 35m
P3: Continue up the splitter offwidth wave on increasingly steep, perfect granite to the irregular slot below the roof. Step left to an uncomfortable semi-hanging belay near loose blocks at the base of a chimney. 5.10+ 20m P2 and 3 can be combined at 55m.
P4: Squeeze and chimney up increasingly poor rock with little pro (5.6 R) for 20m. Pull several awkward bulges on hands and fists and continue upward, switching cracks to place gear. Ascend a hand-fist crack to a sloping ledge and pull a layback/tight fingers jam crux over a bulge on good rock and continue up to a ledge atop a right-facing dihedral. 5.10+ 60m stretch.
P5: Ascend the summit block via 4th class and one 5.7 move. Give a victorious shout. No sensible belay options exist here, so downclimb and continue scrambling uphill to a large tree that stretches over the lip. Low 5th, 20m.
Continue climbing into uncharted territory or do a 50m rappel from a large tree, straight over the face climbers left. Another long rappel from a tiny (but sturdy) tree on the face brings you to the first of three more double-rope rappels to the ground.
After a cold night that left snow above camp, Brady, Ian and Max traversed the lake outlet slabs to explore the complex termination of Wolf's Fang ridge. It needs a name. Barad Dur, Sauron's fortress? Or perhaps Lighthouse Tower, following a Ship Island theme? I'm the Lord of the Rings fan. Others, not so much. But the first complete climb to the top was named Idahome; a 7 pitch grade 3, 5.11a outstanding climb well worth repeating.
---
Idahome, Grade IV, Class 5.10+ by Ian Cavanaugh
This route climbs the Barad Dur/Lighthouse formation. It is shown on the diagram and photo below.
Over the next two days, the same team along with C. Pace and Goldberg accomplished three more climbs on this face; The first two, the Grade III, 5.11b Mermaid's Tail, along with a 'direct' 5.12 Siren's Song variation, were highlights of the trip, even though they ended midway up the mountain. Clean rock, splitter crack climbing, and perfect weather helped.
C. Pace, C. Goldberg and J. Pace added The Octopus's Garden to looker's left of the line in the above photo. A 3 pitch 5.9 route that included awkward off width climbing. See the route beta below for the Mermaid's Tale and Siren's Song: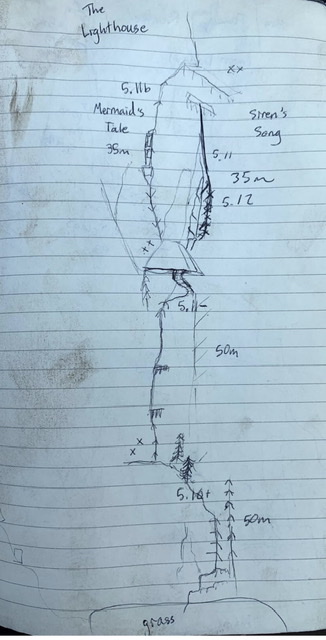 Everywhere we looked, more climbing beconded. We all thought this was what the first generation of climbers in Yosemite must have experienced.
Finally, some photos to whet your whistle!