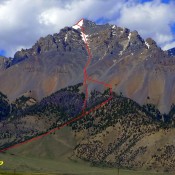 June 26, 2022. Access to Lost River Mountain was recently closed. The access route crosses BLM and private land but serves as access to Forest Service land. Contact the Forest Supervisor and request that he Forest Service grade one of the alternative access roads shown on the map below or buy an easement from the land owner.
Salmon-Challis National Forest
Forest Supervisor's Office
1206 S. Challis Street
Salmon, ID 83467
(208) 756-5100
Alternative Access to Lost River Mountain
I have not tried the other roads leading to the base of the mountain. However, I imagine that you can reach the starting point via one of the roads shown on this map with a 4WD or a high-clearance vehicle. Please let me know if you try one of these access roads.