Elevation: 9,439 ft
Prominence: 59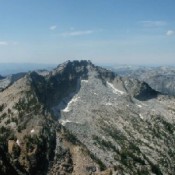 Climbing and access information for this peak is on Page 89 of the book. USGS Mount Jerusalem
---
The listed elevation is the highest point in Idaho County but is not the summit of this peak which sits entirely in Montana and reaches an elevation of 9,460 feet. The peak name on the USGS quadrangle is shown east of the true summit which is just east of the ID/MT border. There is only 59 feet of prominence for this lower summit of Montana's Peak 9460.  You can get both the high point and a Montana peak on the same outing. The Latitude and Longitude data below is for the county high point.
I received the following update from KEN JONES OF NEWCASTLE, WA. writes: Peak 9,439 ["Bare Peak"] (July 26, 2001). The actual summit in this area is 9,440'+ and lies in Montana. As far as we could tell, the 9,439′ elevation applies to a state line monument; this pipe sits on a rock which is plainly not the local summit. (You are right that the mapped Bare Peak is also not the highest.) Your suggested route up Soda Springs Creek looks very feasible, except that the USFS told us that the trail has not been maintained in a decade or more, and that it was very faint past the wilderness boundary even when it was in use. They told us to expect years of blowdown on the trail. We elected to follow the Nelson Lake Trail and then to follow the ridge, and below the ridge (southwest of it), out to 9,439′. This route was long and slow talus sidehilling, and not recommended. It was class 3. On Bare Peak, Andy Martin and I agreed that the 9,439′ elevation must be for the border monument. It is clearly not the highest point, as two 9,440′ contours are shown (one partly obscured by the state/county line) on the USGS topo map. Before visiting the spot, we had some discussions about how there could be a 9,440′ contour at a 9,439′ spot elevation. By observation, the spot elevation would make sense for the monument, which is on a rock a few yards from the northwestern 9,440′ contour. The all-Montana 9,440′ contour is the highest spot on the ridge in that area, though it is probably lower than the 9,459′ spot about 3/4-mile SE of the labeled Bare Peak. (If I hear that Baugher did this via the Soda Springs Creek trail recently, I'll pass that information on to the Forest Service. They are not aware of anyone using the trail recently, and were very discouraging about prospects of doing so. If it still goes, I'll regret the route we used!)
Mountain Range: Bitterroot Mountains
Longitude: -114.40949 Latitude: 48.85149
Share this post ...