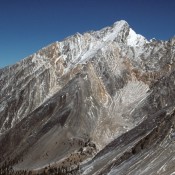 Out-of-staters Ken Jones and Bob Packard were the first to reach all the Idaho county high points. Dan Robbins was the first Idaho resident to reach the summit of all of Idaho's county high points. Terri Rowe of Boise became the first woman to complete the list on August 6, 2019. As you will see from the table, it takes a lot effort, time, snacks and gas money to finish the list.
Andy Martin developed the earliest list of Idaho county high points. Since his original work, improved maps became available. We have updated the list below to incorporate the updated elevations found on the newer maps. Revised August 2018
The list of finishers includes:
Ken Jones, Bob Packard, Dan Robbins, Dennis Poulin, Adam Helman, Chris Anderson, Tony Wofford and Terri Rowe
---
Hiking the U.S. state high points is a popular activity and naturally leads to considering the next level of detail: the 3,140+ county high points. During the 1990s, lists were prepared that locate these points based on the USGS 7.5-minute maps. The book County High Points by Andy Martin, oldadit@iname.com, includes all of these lists.
Hiking the counties of different Western States—AZ, CA, CO, ID, MT, NM, NV, OR, UT, WA and WY—makes an interesting goal and Idaho proved to be a challenge. The Idaho County High Point List was finally completed on Labor Day of 2001 by Ken Jones and Bob Packard. This leaves Montana as the only uncompleted Western State as of 2018.
High Points of Idaho's 44 Counties
The Idaho high point list was composed by county high point guru Andy Martin. Please note that some of Idaho counties' highest points are not ranked summits. The average elevation is 8,289 feet (364,705 feet in peaks/44 counties). The high points in the table are shown in order by elevation. I have linked the peaks that are found on this website to the peak's page.
County
High Point
Elev.
Location
USGS 7.5′ MAP
Custer
Mount Borah
12,662
6-N-23E
Borah Peak
Butte
Diamond Peak
12,197
2-9N-28E
Diamond Peak
Blaine
Hyndman Peak
12,009
?-5N-19/20E
Hyndman Peak
Lemhi
Bell Mountain
11,612
36-11N-27E
Bell Mountain
Clark
Point 11220 east of Webber Peak
11,200+
33-12N-31E
Scott Peak
Boise
Mount Cramer
10,716
19-8N-13E
Mount Cramer
Elmore
Snowyside Peak
10,651
?-7N-13E
Snowyside Peak
Fremont
North Targhee Peak
10,420
?-16N-43E
Targhee Peak
Camas
Peak 10337
10,337+
?-6?N-15E
Galena
Cassia
Cache Peak
10,339
21-14S-24E
Cache Peak
Bonneville
Mount Baird
10,025
5-1S-46E
Mount Baird
Bear Lake & Caribou
Meade Peak
9,957
1-11S-44E
Meade Peak
Valley
Big Baldy
9,705
26-17N-10E
Big Baldy
Franklin
Peak 9484, locally known as Felt Hat Peak
9,484
29-15S-42E
Egan Basin
Idaho
Point 9439
9,439
7-29N-17E
Mt. Jerusalem
Oneida
Oxford Peak
9,282
26-13S-37E
Oxford
Bannock
Bonneville Peak
9,271
33-7S-37E
Bonneville Peak
Teton
Piney Peak
9,020
24-4N-43E
Garns Mtn.
Adams
Monument Peak
8,920+
22-22N-2W
Purgatory Saddle
Power
Deep Creek Peak
8,748
13-11S-32E
Deep Creek Peak
Owyhee
Hayden Peak
8,403
23-5S-3W
Cinnabar Mtn.
Madison
Red Butte

Note: Two unnamed points over 8,080 feet lie near Red Butte.

8,108
20-4N-43E
Temple Peak
Clearwater
Rhodes Peak
7,930
35-39N-13E
Rhoades Peak
Gem
Peak 7971
7,921
1-13N-2E
Tripod Peak
Washington
Cuddy Mountain
7,867
35-17N-4W
Cuddy Mountain
Twin Falls
Point 7860
7,860
27/34-16S-12E
Curtis Draw
Boundary
Peak 7714
7,714
2-63N-2W
Pyramid Peak
Shoshone
Illinois Peak
7,690
33-43N-11E
Illinois Peak
Bingham
Blue Ridge aka Blackfoot BM
7,550
34-2S-39E
Poison Creek
Bonner
Scotchman Peak
7,009
21-56N-3E
Scotchman Peak
Jefferson
Point 6664

This point is part of Kelly Mountain

6,664
33-4N-41E
Heise
Kootenai
Latour Peak
6,408
8-47N-1E
Twin Crags
Gooding
This high point is located on the county's north boundary. It has no rise and it is not a peak in any sense.
6,360+
4-3S-13E
Davis Mountain
Benewah
Peak 6180
6,160+
20-47N-1E
Twin Crags
Ada
Point 6020
6,020+
22-4N-3E
Robie Creek
Lincoln
Peak 5950
5,950
3-3S-16E
Thorn Creek Res.
Nez Perce
Craig Mountain
5,360+
29-32N-4W
Frye Point
Latah
Bald Mountain
5,320+
34-43N-2W
Emida
Minidoka
Bear Den Butte
5,104
8-3S-25E
Bear Den Butte
Lewis
Peak 4795

Note: Two points 4,780 feet+ lie about 800 feet NE of spot elevation 4,795 feet.

4,795
23-32N-3W
Hoover Point
Payette
Point 4763

Note: Two points 4,760 feet+ lie on the east border of Section 4-9N-1W.

4,763
4-9N-1W
Coonrod Gulch
Jerome
This high point is located on the side of Kimama Butte. It has no rise and it is not a peak in any sense.
4,760+-
1-8S-21E
Kimama Butte
Canyon
Pickles Butte
3,084
21-2N-3W
Givens Hot Sprs.
Share this post ...