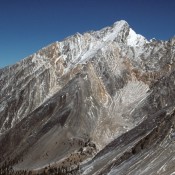 Dan Robbins
was the first Idaho resident to reach the summit of Idaho's county high point. As you will see from reviewing the list below, it takes a lot effort, time and gas money to finish the list.
Hiking the US state high points is a popular activity, and naturally leads to considering the next level of detail, the 3,140+ county high points. During the 1990's lists were prepared that locate these points, based on the USGS 7.5′ maps.  The County High Points book by Andy Martin, oldadit@iname.com, includes all these lists.
 Hiking the counties of different western states – AZ, CA, CO, ID, MT, NM, NV, OR, UT, WA, and WY – makes an interesting goal, and Idaho proved to be a challenge. The Idaho County High Point List  was finally completed on Labor Day of 2001 by Ken Jones and Bob Packard. This leaves Montana as the only uncompleted western state.
Routes up most named ID county peaks are given in Idaho: A Climbing Guide by Tom Lopez. Trip reports and topo map links for the counties are found at http://cohp.org/id/idaho.html
HIGH POINTS OF THE 44 COUNTIES OF IDAHO
Compiled by Andy Martin. Average elevation is 8,289′ (364,705′ / 44).
COUNTY           HIGH POINT                  ELEV.        LOCATION             USGS 7.5′ MAP
Note: Field observations indicate nearby contour 10,360+ does not exist

Note: Point is located 1900′ northwest of Bare Peak.

Note: He Devil and She Devil are very close in elevation.

They are almost surely lower than point 9,439

Note: an unnamed point over 9,280′ lies 900′ south of Oxford Peak

Note: An unnamed area of 8,960′ to 9,039′ lies 4000′ south of Oliver peak in sections 8  and 17 of 2N-46E.                                      

Note: An 8,933′ spot elev. lies 4600′ south of Monument Peak in section 26-22N-          2W. It is lower than Monument Peak.

Note: Two unnamed points over 8,080′ lie near Red Butte.

Note: An unnamed point 3200′ feet NE of this one is over 7,680′.

Note: Two points 7,000+ lie 100′ and 1000′ NE of Scotchman Peak.

Note: This point is on Kelly Mtn. A nearby area is over 6,660′.

Note: Two points 4,780+ lie about 800′ NE of spot elevation 4,795′.

Note: Two points 4,760+ lie on the east border of Section 4-9N-1W.
Share this post ...