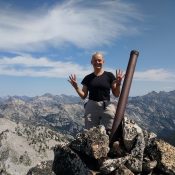 On August 6, 2019, Terri became the first woman and only the 8th person to climb all of the Idaho County High Points. Terri also became the first woman to complete the Lower 48 State High Points twice. Terri is now working on Idaho's mountain range high point list as well.
Terri reported her accomplishment in a Facebook post: "Wow! I did it! I'm the first woman to summit the highest point in each of Idaho's 44 counties! My final peak was Idaho County's Bare Peak NW in the Bitterroot Range, which Paul Jurczak and I reached on Tuesday. To make summit day a little less grueling, we backpacked into Nelson Lake the day before and out from the lake the day after. Even so, our summit day was 11 hours of hard work to go 6 miles round-trip from our campsite at the lake. The injury risk was very high on this remote peak and I am forever grateful to Paul for his company and his encouragement to get me across a few sections requiring rock climbing moves."
Her highpointing journey began in 2010 when she read about "highpointing" in the summit register on Wolf Fang Peak, leading her to discover The Highpointers Club. From 2011 to 2014, she and her daughter Fallon completed 49 of the 50 state highpoints becoming the first mother-daughter team to do so.
Link for the Idaho County High Points list; Idaho County High Points
Link for the Highest Peak in each Idaho Mountain Range and Subrange: Range High Points
The other finishers are Ken Jones, Bob Packard, Dan Robbins, Dennis Poulin, Adam Helman, Chris Anderson and Tony Wofford.
Share this post ...