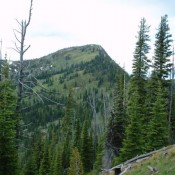 Idaho's county high points are not only scattered all over Idaho but also encompass many access and climbing problems. Ken Jones and Bob Packard mutually agreed to complete the list on September 2, 2001. Below Ken Jones recounts the event.
---
In the summer of 2001 as I looked forward to completing the Idaho county high points I realized that there was a chance I could be the first completer.  But it also appeared that my good friend Bob Packard, from Flagstaff AZ, could beat me to the punch.  Maybe he wasn't aware of the race, and I could beat him to it!  Maybe he was planning to leave me in the dust (he was retired, I was not).  What to do?
So I sat down with our respective lists and proposed to Bob that we schedule a joint completion on Illinois Peak in Shoshone county – we both needed it still, and it looked like a good place to finish.  We picked a date in early September, and I scheduled my wife and sons to join us.
Now, all I had to do was complete the remaining peaks before Illinois Peak while Bob completed his somewhat different set to get to the finish line.  I did several solo trips, my 9-year-old son's first backpack (Snowyside Peak, he fell in the water on a stream crossing but all turned out well), and a big multi-peak trip with another Arizona friend, Andy Martin.  After a backpack with Idaho hiking buddy Roger Williams to Big Baldy on the last weekend in August I was ready.  The family and I hiked Rhodes Peak on Sunday, September 2 and met Bob near the trailhead for Illinois Peak on Labor Day morning.
The hike went well, and we positioned ourselves on opposite sides of the summit to touch simultaneously for a joint completion (although I was on the Pacific time zone side while Bob was on the Mountain time zone side, so you could argue that I finished an hour before him – if you don't understand time zones!).
Share this post ...