Elevation: 10,420 ft
Prominence: 680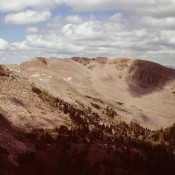 Climbing and access information information for this peak is on Page 336 of the book. I erred in the book; the peak is actually on the USGS Targhee Peak quad. Livingston Douglas has provided a more detailed route description which is set out below.
---
This peak is not officially named and is often referred to as the Fremont County High Point. As a county high point, this remote peak sees a significant number of climbs each year. Be advised that the Henrys Lake Range is located just west of Yellowstone National Park. As part of the greater Yellowstone ecosystem, it is prime habitat for grizzly bears. In fact, my climbing partners and I were charged by a young grizzly on the day the day we climbed Targhee Peak. We highly recommend that you visit the National Park Service's Staying Safe Around Bears page before venturing into the Henrys Lake Range. USGS Targhee Peak
North Targhee Peak Update by Livingston Douglas
Access
Mile Creek Trail (see the description of this approach under Targhee Peak).
South Ridge, Class 2
Leave the Continental Divide Trail (CDT) at the top of a meadow/gully just before it crosses the northwest ridge of Targhee Peak at the "Targhee Divide" (9,980 feet). Scramble up the grassy, wet gully (it may have a snowfield in it just below the ridge) to reach the south ridge of North Targhee Peak just northeast of Point 10130. While you can also scramble to the south ridge directly from "Targhee Divide," it's a more difficult scramble (Class 3) through an unpleasant mix of thick pines, krummholz, and blocky rock.
Once on the south ridge, follow it northward, skirting rocky outcrops on the ridge as necessary. This is a tedious Class 2 ridge traverse that stretches for a good 1.25 miles. Pass to the left/west of Point 10273, which has an ID/MT Boundary Post atop it. Skirt to the left/west of a large, elongated ridge point by dropping down a bit then climbing back up on a narrow ridge of scree to reach the final section of ridge. This final ridge section has multiple false summits. You will swear that you're never going to get to the true summit. Just keep going until you reach a flat, open "hump" that is the final ridge bump in a succession of endless outcrops and ridge bumps. The true summit is this gentle tundra-and-broken-rock hump. It is the easternmost of the summits and is the final one. It is separated from the "west summit" by a minor saddle. Not a very impressive summit, but that's all you get with this one.
Mountain Range: Henrys Lake Range
Longitude: -111.3954 Latitude: 44.7391
Share this post ...