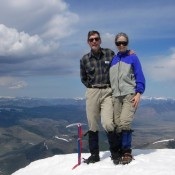 Editor's Note: Carl Hamke and Judi Steciak recently became the third and fourth climbers to summit all of Idaho's peaks exceeding 11,000 feet. George Reinier and Johnny Roache were the first climbers to summit all of these peaks, while Judi is the first woman to accomplish this exceedingly difficult task. The short article below summarizes their quest and lists the 11,000-foot peaks that are not set forth in the book. The peaks identified below and the routes climbed by Judi and Carl were added to this site courtesy of Carl and Judi. Enjoy!
---
Tom Lopez's guidebook for exploring Idaho mountains hits a good balance between detailed directions to trailheads and route descriptions that allow you to enjoy the thrill of discovery. Although many hundreds of mountains are included, peakbaggers wanting to summit Idaho's highest mountains might be interested in learning more about the 17 ranked summits between 11,000-11,999 feet that are missing from the 2nd edition, plus a few easier routes on the Eleveners that are in the book.
It only fair to give a hint of the effort involved in summitting all 114 Eleveners.  The peaks are spread out over 4 counties (Beaverhead, Blaine, Custer and Lemhi) and 7 different mountain ranges [Lost River (41), Pioneer (30), Boulder (17), Lemhi (9), White Cloud (8), White Knob (5) and Beaverhead (4)]. Most of the peaks are hikes or scrambles, but 10 have Class 4 routes and one has no other option than a Class 5 route.
In the process of reaching all those summits, we accumulated approximately 374,000 feet of elevation gain. This includes the 11,000 vertical feet we gained in one 2-day weekend (we were younger then). Note that the route from the Khumba base camp to the summit of Mount Everest shares the same elevation gain, albeit with higher starting and ending elevations. We covered at least 820 miles on the ground and spent at least 800 hours walking. You do the arithmetic: that's only about a 1 mile/hour average.  We found 23 peaks and/or routes for which we had no hard-copy information.
It took us 16 years from start to finish (along with many other higher and lower summits as well as ski trips, white water rafting…). We climbed as many as 3 Eleveners in one day. We needed 3 tries to summit some of the peaks, due to thunderstorms, wildfire smoke and not having the right gear in one case. We had to climb one Twelver twice in one day to reach an Elevener. We found no peaks with maintained trails to their summits. Trailheads were lonely places. We never met anyone on a summit and rarely met anyone in the valleys. We became addicted to the joy of exploration and discovery, and enchanted by the solitude, wildlife, wildflowers, pristine wilderness, and achingly beautiful vistas. Beware!
The Missing Eleveners
Peak
Elevation(ft.)
Range
Route
YDS
Peak 11312
11,312
Boulder
W ridge
3
North Ryan
11,296
Boulder
NW ridge
2
Peak 11161
11,161
Boulder
SE face to S ridge
3
South Glassford
11,160
Boulder
S face
3
Peak 11087
11,087
Boulder
S face to E ridge
2
Paragon Peak
11,781
Lost River
W ridge from Dry Creek
4
Peak 11189
11,189
Lost River
E ridge
2
Merriam Pinnacle
11,160
Lost River
NW face to NE ridge
4
True Grit
11,100
Lost River
NW face
5.3-4
Peak 11090
11,090
Lost River
W face to NW ridge
3
Gabriels Horn
11,641
Pioneer
SW ridge
3-4
Andromeda
11,600
Pioneer
SE face
3
Recess Peak
11,560
Pioneer
NW face to W ridge
3
Rearing Stallion
11,280
Pioneer
W ridge
3-4
Boulder Lake Peak
11,080
Pioneer
SW ridge
4
Howard Peak
11,020
Pioneer
W face
3-4
Lonesome Lake Peak
11,302
White Cloud
W ridge
2
Missing Route Descriptions on Eleveners
Peak
Elevation(ft.)
Range
Route
YDS
Peak 11458
11,458
Boulder
SE couloir to S ridge
3
Petros Peak
11,050
Lost River
S face from Christian Gulch
2
The Box
11,305
Pioneer
W face
3
WCP-10
11,102
White Cloud
NW face to E ridge
4
Share this post ...