Elevation: 11,220 ft
Prominence: 104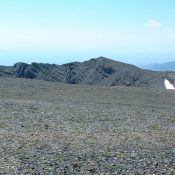 Climbing and access information for this peak is on Page 327 of the book. The access directions in the book are no longer valid due to a road closure. Use the access information set out below. Published August 2019
---
As noted in the book, Webber Peak is not a separate peak but is the [lower] South Summit of Scott Peak. It has only 104 feet of prominence. To complicate matters, the highest point in Clark County is located just southeast of Webber Peak. The high point's elevation is 11,220 feet and there is only 40 feet of rise from the Webber/Clark County HP saddle. USGS Scott Peak
A
ccess by Livingston Douglas 
From the junction of ID-28 and ID-33 in Mud Lake, drive N on ID-28 for 42.5 miles to [signed] Nicholia Road. Nicholia Road is located 6.1 miles N of the Kaufman Picnic Area on ID-28. Turn R/NNE onto Nicholia Road and drive 3.1 miles to an unsigned junction with a dirt road that runs southward at the base of the mountains. Drive 4.5 miles S on this dirt road to reach an unsigned L turn for Scott Canyon. You will pass 2 turnoffs for Eidelman Canyon (at 0.9 miles and 1.6 miles), a turnoff for Italian Canyon (at 2.5 miles), and a sign for Irish Canyon (at 3.7 miles) on the way.
At 4.5 miles, reach an unsigned left turnoff for Scott Canyon Road. Reset your odometer. At 0.3 miles, enter the Targhee National Forest (signed). The road is now officially FSR-190. At 1.8 miles, pass Blind Canyon (signed on left). At 2.9 miles, reach an unsigned road junction. FSR-190/Scott Canyon Road is badly rutted past this point. You may want to park on this old side road if necessary (7,509 feet). If your vehicle and road conditions permit, drive another mile to the end of FSR-190 at 3.9 miles. This is the parking area for two trails: FST-006 and FST-174. FST-006 is a MC trail that heads up Scott Canyon. The trailhead parking area is a large grassy meadow at a fork in the canyon. There are some shaded, dispersed campsites on the R/S side of the meadow.
Contributor Ken Jones supplied the following route information:
Follow the trail northeast beyond the fence (signed FST-006). In a bit under a mile you will reach a junction (FST-7993 on the 1987 Scott Peak quad). Note this spot for your return (FST-006 is obscure at this point, except for a small sign), and bear right. Follow the main (ATV?) trail to its high point on a ridge at 8,975 feet. From here, head cross-country (passing through the mouths of two canyons) to the ridge dropping southwest from Webber Peak. Head up this steep, rough ridge all the way to Webber Peak. It is high Class 2 if you pick your way carefully. There is a spot at around 10,600 feet which is interesting Class 3 if you don't go around it. We recommend bypassing it to the east. At the summit of Webber Peak, you will find a register.
Turn right and head out to the Clark County HP, which is the closed contour about 500 meters east of Webber Peak. Sighting and GPS work show that the small piece of 11,200+ terrain at the county line is lower than the closed contour. You can stay on or very near the top of the ridge all the way. No register was found or left. On your return, consider running the ridge the other way to Scott Peak, which is one of the highest prominence peaks in Idaho. On the way down, we found it easier to drop into the canyon northwest of the ridge we'd ascended, once we were below the cliffs (~10,200 feet?). We were glad we hadn't come up that way, though, due to the loose footing.
Mountain Range: Beaverhead Range
Longitude: -112.81059 Latitude: 44.34369
Share this post ...