Elevation: 6,515 ft
Prominence: 645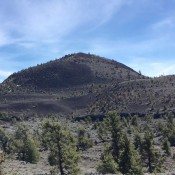 This volcanic cone is located in Craters of the Moon National Monument and Preserve.
There are numerous lines that will lead you from the parking lot to the peak's northwestern slopes. The area away from the lava flow is covered by sagebrus, pine and juniper trees and is open in nature and easy to traverse. Please take care of this pristine environment and watch out for rattle snakes.
Another approach is via the Wilderness Trail. The Park Service describes the Wilderness Trail as follows.
Wilderness Trail
The Wilderness Trail leads four miles from the Tree Molds parking lot to the Sentinel. The Lava Trees and Echo Crater both make good day hike destinations. Most backpackers spend the night at Echo Crater, three miles from the trailhead, but there are also camping opportunities at the Sentinel and beyond.
The Wilderness Trail begins at the Tree Molds parking lot. Walk along the sidewalk approximately 75 yards to a trail on the right. Here you can choose to hike over or around Broken Top cinder cone.
The trail continues past Big Cinder Butte, which rises 700 feet above you. A half mile beyond Big Cinder, look for a series of lava trees and fissures west of the trail. The trail winds between Coyote and Crescent Buttes to Echo Crater. Be sure to climb to the rim for a spectacular view of the row of cinder cones that mark the Great Rift. From the top, it is an easy walk down the south side of the cone. You can go into the crater and find protection from the sun and wind under the limber pines.
The hiking trail becomes less distinct beyond Echo Crater, but can be followed as far as the Sentinel, where it disappears altogether. You can travel cross-country beyond that point; however, dense shrubs and uneven lava make the going slow and sometimes unpleasant. Wear long pants for bush whacking or your legs will get shredded!
See the Park Service Web site.
Mountain Range: Snake River Plain
Longitude: -113.5389 Latitude: 43.417
Share this post ...