Elevation: 9,100 ft
Prominence: 400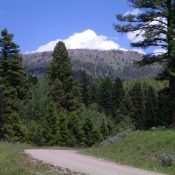 The climbing and access information for this peak on Page 332 of the book is incorrect. The peak's location identified in the book was based on an old Forest Service map rather than the USGS quadrangle. Published November 2020
---
Big Table Mountain is located in the Western Centennials. It sits on a ridge west of East Camas Creek. The Continental Divide crosses the lower sections of the mountain to the north but the summit of Big Table Mountain is NOT on the Divide. The book misidentifies Big Table Mountain as Peak 9220. They are two separate peaks. Peak 9220 is on the Continental Divide and is well east of Big Table Mountain. The high point on Big Table Mountain is only 9,100 feet in elevation as per LOJ and the USGS topo map. USGS Big Table Mountain
Access
Same as for Castle Peak. This is the final leg of a 2-peak journey.
West Face/South Ridge, Class 2
The Climb
From the road junction at the 7,760-foot connecting saddle with Castle Peak, hike north up an old 2-track jeep road to get closer to the south ridge of Big Table Mountain. After about 10 minutes of hiking, leave the road and bushwhack east (with occasional moves northeast) up a forested face that is a miserable concoction of multiple shoulders and dry gullies with thick brush and lots of blowdown. There are some diagonal game trails to help to some degree. This awful bushwhack puts you up on the semi-open, broad south ridge of Big Table Mountain.
Head north up the right edge of the forest in open field grass (or use game trails in the forest) to move your way up the tilted plateau. Alternate between the open field and the forest as the terrain dictates. There is much more forest up here than I expected. The summit hump is somewhat gradual, but it is there. The summit high point area is forested but has some small open areas. I found no summit cairn so I built one on what I believe to be the high point. I wandered around for a good 10 minutes to find a higher point but couldn't. The high point is in semi-open forest but has no views due to the nearby pine forest.
West Face, Class 2
The Descent
From the summit, descend west through the pine forest and angle left-ish/south to reach an elusive shoulder. This is a slow, steep, loose (scree) and blowdown-clogged descent. The shoulder has game trails but a lot of blowdown and is still pretty steep. Finally, the slope eases and the forest opens up. You will find game trails and some open meadows to expedite the descent. Reach old FSR-172 and follow it briefly south then leave it to bash west down through more forest to reach an old spur road (not shown on maps) just above its junction with FSR-010. Once on FSR-010, hike 0.6 miles left/south on it to return to the road junction and your parked vehicle.
Mountain Range: Centennial Range
Longitude: -112.03069 Latitude: 44.51901
Share this post ...